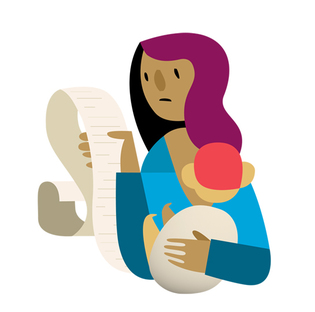 Alex Eben Meyer
In 2022, grocery store shelves that once held towers of formula canisters were suddenly barren. This was the start of the formula shortage, sparked by recalls of the nutrient-packed powders and liquids used to feed infants.

Sarah Mahoney, an MD/PhD student at the Yale School of Medicine, took notice. Her classes had already got her thinking about the social factors entangled in the task of feeding babies. "I was both in awe and shocked by how little research has actually been performed and how little we know about breastfeeding," she says.

Mahoney noticed a common reaction to the formula shortage: Why is it a big deal, when breastfeeding is free? Health organizations such as the American Academy of Pediatrics and the World Health Organization recommend breastfeeding for the baby's first two years because of the health benefits to the baby and mother. But Mahoney began to wonder whether breastfeeding is actually free. She knew that equipment such as breast pumps cost money, but she suspected there were other, less obvious costs—such as the time it takes to breastfeed, which can cut into one's salary.

Under the mentorship of Yale pediatrician Sarah Taylor and economist Howard Forman, Mahoney took on the daunting task of adding up all these costs to estimate how much money it takes to breastfeed a child. Her study, published in the Journal of Perinatology, shows that choosing to breastfeed can cost as much as $11,000 for the first year of the baby's life—more than half the annual income of a single mother living at the poverty line.

In her study, Mahoney tallied up the cost of everything from food to milk-storage bags and nursing pillows. These could cost a new mother hundreds of dollars. She also calculated the "opportunity cost" of breastfeeding, which she defined as the potential amount of money women would earn working at minimum wage, instead of breastfeeding for four to six hours per day. This alone came out to more than $8,000 per year.

Some of the costs were higher than Mahoney had ever expected. For example, food to maintain the nutrient levels needed for breastfeeding mothers cost more than $500 per year. "I went back and redid those calculations five times," Mahoney says. "I thought about it over and over again: I must be missing something, because this is a lot of money."

Choosing which factors to include in the analysis was one of the biggest challenges, and some people were skeptical about whether to quantify the cost of breastfeeding at all. But figuring dollar amounts is second nature for economists like herself—and she thinks it's an important first step to making breastfeeding possible for more people. "Breastfeeding has so many positive benefits beyond those that are directly measurable," she says.

Mahoney hopes the study reaches more than just her fellow economists. "It was written first for physicians," she says. In particular, she hopes it helps doctors to better advise their patients on how to navigate the associated expenses of breastfeeding. She also hopes policymakers will take note of the staggering cost she calculated and create new policies to ease the financial burden. "Putting a dollar amount on something is a way to inspire action," she says.