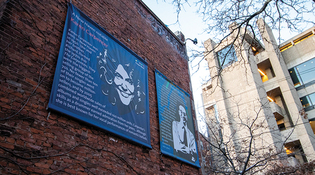 Kim O'Malley
Karen Carpenter and Robert Moses, Class of 1909, Ernest Borgnine and Simeon Jocelyn are among the New Haven-connected luminaries included in the New Haven Notables series. View full image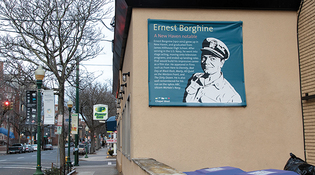 Kim O'Malley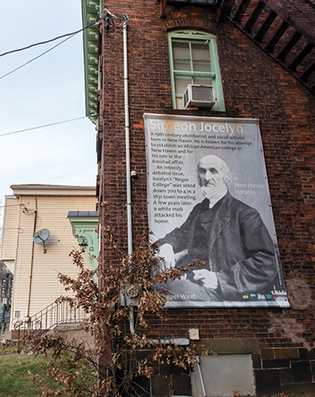 Kim O'Malley
What do an Academy Award winner, the city planner who reshaped New York City, and the first Puerto Rican known to serve in the US Armed Forces have in common? They have a connection to New Haven.
Those connections, says Tom Strong '67MFA, a graphic designer active in local projects, are "something worth celebrating." He and a few friends created a campaign to make sure New Haveners know they've got people to celebrate.
Strong has spent much of the past 50 years revitalizing the neighborhood where he works. He sits on the board of commissioners for a specially designated district called Chapel West. The district incorporates Chapel Street, from York to Sherman, and most of the blocks adjoining it. Property owners in the district support Chapel West through a special 2.5 percent tax that funds services including daily sidewalk and gutter cleaning, maintaining seasonal flowers and shrubs, as well as other services intended to make the district a particularly attractive and memorable part of the city.
One of those services is Strong's campaign for the New Haven Notables.
Walk down Chapel Street and you may notice a number of large banners hanging on buildings. Each banner has a large black-and-white print of a New Havener's face, with a short account of what makes its owner notable and how they ended up in New Haven. The posters range from 5 to 12 feet wide. The three notables mentioned above are Meryl Streep '75MFA, Robert Moses, Class of 1909, and Augusto Rodríguez. Some—like Streep, Karen Carpenter, and Norman Lear—are well-known names. At least 15 of the 31 honored notables have degrees from Yale, says Strong.
Others were a little harder for Strong to track down. He is proud of highlighting Simeon Jocelyn, a white New Haven abolitionist who attended the Yale Divinity School. In 1831, Jocelyn announced a plan to form a "Negro College" in New Haven; in response, a white mob attacked his house. Eight years later, as a key player in what came to be known as the Amistad case, he was one of the New Haveners who helped a group of 39 enslaved Africans to lobby for their freedom and return home to Africa. Unlike the other banners, Jocelyn's—which hangs on Howe Street between Crown and George—is simply an enlarged photo, "not changed into art," Strong says.
Among Strong's favorite banners is the one highlighting Moses. Like most of the other banners, Moses's features a black and white portrait. But his is overlaid on a graphic of New York City's waterways and parks.
Arnie Lehrer owns a building on the corner of Edgewood and Lynwood, where he proudly hangs a banner of Craig Breslow '02. Breslow, who made it to the big leagues as a baseball pitcher, is now an executive with the Chicago Cubs. In Lehrer's words, he's "probably not the most notable" of the New Haven Notables. But the landlord is "thrilled" to have Breslow on his building. Lehrer, who also sits on the Chapel West board, says that since hanging the banner, he's received appreciative emails from Yale alumni, visitors, and even Breslow himself.
"We've done a lot to bring the neighborhood back," says Lehrer. Back in the '80s, he remembers, the Chapel and Park area was known as a red-light district. ("Fishnet stockings," Lehrer elaborates.) Now, he says, the place has changed; for one thing, many Yale students live there. And he argues that programs like Chapel West and the New Haven Notables have helped. It costs between $400 and $700 to make a banner and $500 to hang one. In direct sunlight, banners will wear out after four years; most are now going on six.
Currently, there's no more space for new banners. Yale won't feature any on buildings that it owns, and every other wall has been filled. But Strong has his eye on an apartment building planned to go up on Howe.
When deciding on new Notables, Chapel West board chair Vincent Romei gets ultimate approval. Together, he and Strong try to avoid what Strong calls the "What the heck?" reaction. But Strong says he's always "open to suggestions."