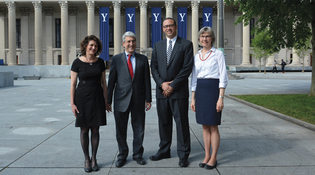 Michael Marsland
President Peter Salovey '86PhD (second from left) with new deans Tamar Szabó Gendler '87 (left), Jonathan Holloway '95PhD, and Lynn Cooley. View full image
Less than a year into his tenure as Yale's president, Peter Salovey '86PhD has brought in new leadership for Yale's two biggest schools, the college and the graduate school. He has also added a new leadership position: dean of the Faculty of Arts and Science (FAS)—the 1,100 or so faculty members who teach in those schools.
In May, Salovey announced the appointment of geneticist Lynn Cooley as dean of the Graduate School, historian Jonathan Holloway '95PhD as dean of Yale College, and philosophy professor Tamar Szabó Gendler '87 as dean of FAS. All three took office on July 1.
Gendler's new job was created on the recommendation of a faculty committee appointed by Salovey last fall (see Q&A: Peter Salovey, May/June). Most of Yale's peers have a dean in charge of their FAS, but at Yale, administrative responsibilities for FAS have long been divided among the college dean, the graduate school dean, and the provost. Now, the dean of FAS will have primary responsibility for faculty issues—including FAS budget responsibilities that have rested with the provost—while the college and graduate school deans will focus on issues more specific to their students and communities. All three deans will report to provost Ben Polak, the chief academic officer of the university.
As dean of the faculty, Gendler says she sees it as her job "to make Yale a place no faculty member would ever want to leave," in part by increasing the "points of interconnection" among faculty. "There's no resistance to cross-departmental thinking at Yale," she says. "But there's never been anyone whose responsibility it has been to help facilitate those connections. I see myself as engaged in a pollination project."
Gendler, the Vincent J. Scully Professor of Philosophy, most recently served as deputy provost for the humanities. Her scholarship combines traditional analytic philosophy with recent work in developmental, cognitive, and social psychology, and she has chaired Yale's undergraduate program in cognitive science.
Holloway, who recently ended a nine-year term as master of Calhoun College, is a professor of history, American studies, and African American studies and chair of the African American studies department. He specializes in twentieth-century African American history, with a particular focus on cultural and intellectual history.
Cooley, the C. N. H. Long Professor of Genetics at the School of Medicine, has a joint appointment in the FAS department of molecular, cellular, and developmental biology. Since 2001, she has been director of the Combined Program in the Biological and Biomedical Sciences, a doctoral program that spans several departments and schools at Yale. She studies the development of eggs in the fruit fly Drosophila.