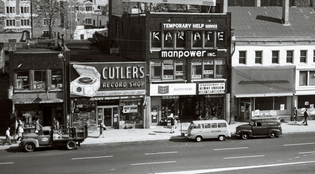 Manuscripts & Archives
This photo of Cutler's is from 1962, when Jayson Cutler still ran the store. The much-loved record player sign was taken down about 15 years ago, when the store moved down the block, but Phil Cutler still has it in storage and is "open to suggestions" about what to do with it. View full image
When I showed up at Cutler's Record Shop in May, to interview owner Phil Cutler about his decision to close the place after 64 years on Broadway, there were so many customers clustered around the cash register that he couldn't break away. A few days later, the crush of record-laden shoppers was even bigger. "It's like the old days," said Bob Briar, who has worked at Cutler's for 38 years, as he slid in to relieve his boss at the register.
The crowd was drawn partly by the going-out-of-business sale, but many patrons were moved just to pay a last visit to a place where they had spent many happy hours. The news of the store's closing—while not surprising in an era in which more and more music is bought and streamed online—struck a nerve among Yale alums and New Haven residents. (We posted the news on the Yale Alumni Magazine blog and Facebook page in May. The responses included "Oh, no!!" "Say it isn't so," and "Nooooooo! Way!!!!")
"I'm absolutely overwhelmed" by all the attention, says Cutler, who, at 53, has the lanky physique of a rock star. "I didn't think for a second that we were that much a part of people's lives. I feel very blessed." Cutler, the third generation to run the family business founded by his grandfather, Nat, in 1948, started working in the store alongside his father, Jayson, when he was 13.
Looking back on those 40 years, Cutler remembers fondly that heady time in the early '90s when consumers were converting their record collections to CDs. "That just blew everything up," he says. "We sold between 6,000 and 8,000 CDs a week." Cutler can also tell you that the biggest-selling record in the store's history was Michael Jackson's Thriller; the biggest-selling group was the Beatles; and the most memorable event was an "in-store" appearance by Ozzy Osbourne. "That's when the artist signs whatever fans bring in: ticket stubs, albums, breasts," Cutler explains. He adds: "Ozzy showed up five hours late in a full-length fur coat, and he wasn't super coherent."
Cutler's has been at two locations, both on Broadway. But whatever the address, Phil says, the store never really felt like his alone. "It was the community's. It's where Yale and New Haven came together. It was just a cool place to be."