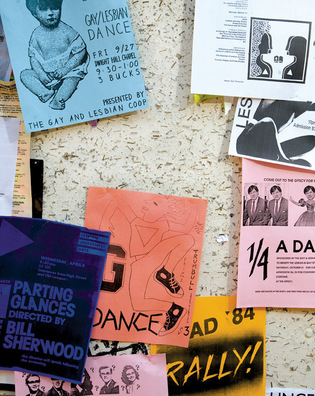 Julie Brown
Posters from the 1980s for gay dances, rallies, and conferences at Yale. View full image
I was an undergrad at Yale in the '70s and a grad student in the '80s, and then, after 15 years off for good behavior at the University of Chicago, returned here three years ago as a professor of history. Since returning, I've been astonished to see how much Yale has changed, and that almost all of that change has been for the better. One of the most remarkable transformations has been in the place of lesbian, gay, bisexual, and transgender (LGBT) students and faculty. As a grad student here, even with the support of historians John Boswell and Nancy Cott, I encountered considerable skepticism when I decided to write a dissertation in gay history. Twenty years later, Yale hired me because of that scholarship, and I teach a lesbian and gay history lecture course every fall and a junior seminar every spring. Sixty students took my lecture course this year, half of them straight, and they thought taking a course like mine was no more queer than, say, a white student taking a black history class.
This would have been unthinkable to me 20 years ago. But it's consistent with what Yale has become in the twenty-first century. Every college student here today, gay and straight alike, knows that Yale has a reputation for being an exceptionally hospitable and exciting place to be gay. Its reputation as a gay-friendly campus is so well established it may have helped attract unusually large numbers of gay students, even if not the "one in four" of campus lore.
That reputation is something we can all take pride in. But it didn't just happen; it was achieved. Nor did this change occur at Yale alone. There has been a sea change in the place of LGBT people in American society in the last generation. The changes at Yale have been bound up in that larger cultural transformation, and analyzing them gives us some sense of how it took place across the nation.