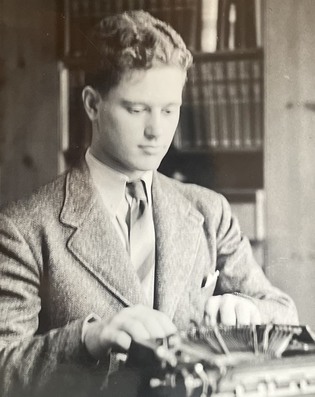 Sad tidings. Shepard Palitz peacefully passed away on October 6 at age 103, at home in Carmel, California, wearing a Yale t-shirt. A Yale man to the end.
He was born in New York City, but left at age 14 to attend Cheshire Academy and then Yale. After medical school in New York, he served a tour as an Army doctor in post-war Japan, where he developed a lifelong appreciation of Asian art and architecture. During his surgical residency in Philadelphia, he met and married a beautiful and brilliant lawyer from Milwaukee, Merriem Luck, and they had their daughter Marsha. Amidst his second Army tour, as a surgeon at Camp Stoneman, they had their son Albert (Y '75) and decided to stay in California.
Shep had a 60-year medical career as a surgeon in Bakersfield and medical quality consultant with the California Medical Association. Twenty years ago, Shep and Merriem moved full-time to their vacation home in Carmel, where they read from their vast collection of books, played tennis, and hosted their children, five granddaughters, and eventually their seven great-grandchildren.
A tireless walker with boundless energy and optimism, all of Manhattan was his playground as a child, as was the Connecticut countryside during school and college when he walked from town to town on weekends with a book and an apple in his pocket. Reflected in the letters Shep wrote to his wife of 70 years during their courtship, he was determined to live a principled and ethical life devoted to work, family, and service to others, which he proceeded to lead to the age of 103.
As a surgeon he was devoted to the well-being of his patients and relentless in his pursuit of quality improvement. As a father and a mentor, he practiced patience, tolerance, and understanding, quietly supporting and encouraging growth, independence, autonomy, and a sense of responsibility in others. His life was a blessing, a model, and an inspiration for the generations who knew and loved him—including his son Albert '75, daughter-in-law Pam '76, and granddaughters Zoe '05 and Akimi Palitz Nelken '10MA.
—Submitted by the family.