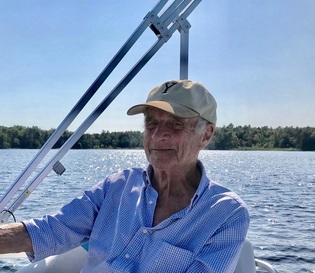 John Edward Linck died on October 9, age 90. He was a much-loved husband, father, and friend. He is survived by his wife Ann Tushim Csink, daughter Elizabeth Linck Blakely (Scott), grandchildren Alexandra and Caelen, and Ann's daughters Kevin Ann Blough (James) and Amy Csink (Andrew Gove). He was predeceased by his first wife Alanne Headland Linck and son John Edward Linck, III, Yale College Class of 1986.
John was born 18 March 1933, in Mount Kisco, New York. At Yale, he lived in Silliman College and was a member of Phi Gamma Delta. After being drafted and serving in the army, John was hired by the Insurance Company of North America, now CIGNA. John was an expert in special risk marine and aviation insurance. After working for CIGNA for over 40 years, and serving as vice president, he retired but did not slow down. John was an avid photographer and traveler; loved crossword puzzles; practiced the piano religiously; enjoyed opera, choral, and orchestral music; and read spy and naval history books. He enjoyed his steak rare and his martinis very dry. He was known to do his own yard work. One of his favorite places in the whole world was Raquette Lake in New York's Adirondacks.
John and his first wife Alanne established a summer travel fellowship in Ezra Stiles College in memory of their son John. After Alanne's death, it was renamed the John E. Linck III and Alanne Headland Linck Fellowship, and it continues to fund student travel in support of academic research.
Memorial gifts may be sent to the Chestnut Hill Conservancy (8708 Germantown Avenue, Philadelphia, PA 19118) or the Raquette Lake Library (Box 129, Raquette Lake, NY, 13436).
—Submitted by the family.