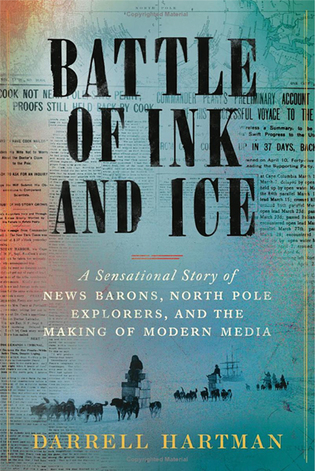 Battle of Ink and Ice: A Sensational Story of News Barons, North Pole Explorers, and the Making of Modern Media
Darrell Hartman '03
Viking, $30
Reviewed by Alex Beam '75

Starting in 1909, a decades-long battle raged between two explorers over rival claims of "discovering" the North Pole. In one corner: Frederick Cook, a medical doctor bitten by the Arctic bug, and financed and championed by James Gordon Bennett Jr.'s New York Herald. In the other: Robert Peary, a naval officer promoted to admiral by an act of Congress: a sulfurous, off-putting self-promoter bankrolled and boosted by a newspaper struggling to make its mark on turn-of-the-century America—the New York Times.
The Herald loved making news. It was Bennett's father who sent the journalist Henry Stanley searching for the not-so-lost Dr. David Livingstone in Africa. The paper minted money from weeks' worth of "exclusive" details of their famous meeting. Bennett Jr. knew how to be a mogul. Having earned record profits in 1899, he spent $625,000 (more than $22 million in today's dollars) on an oceangoing pleasure boat, the Lysistrata. The 314-foot-long cruiser had a Turkish bath for Bennett's exclusive use, and a stall for a dairy cow named Bossy. Bennett wanted his milk fresh.

The Times, owned by an entrepreneurial but sedate businessman from Chattanooga—Adolph Ochs, the great-grandfather of the current publisher—loved reporting news almost as much as the Herald loved staging it. Times reporters had chased the corrupt Boss Tweed ring from political offices in New York, and by backing Peary, they were hoping to ride another story to circulation heaven.
The story had an operatic ending. Cook ended up serving part of a fourteen-year sentence in prison for defrauding investors in Texas. At least two of Peary's Arctic discoveries proved to be chimerical. A 1973 book argued that neither Peary nor Cook made it to the North Pole.

Hartman writes that after further investigation, the Times published "one of the most extraordinary corrections in the paper's history"—acknowledging that, contrary to what the paper had reported almost eighty years earlier, Peary had failed to reach the North Pole. True or not, it was still a great story, and one well told here.

Alex Beam '75 is a Boston-based writer.
__________________________________________________________________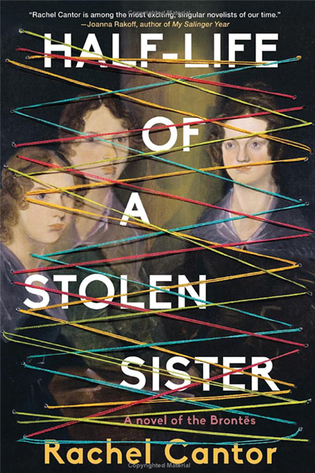 Half-Life of a Stolen Sister
Rachel Cantor '82
Soho Press, $27
Reviewed by Rebecca Steinitz '86

Nineteenth-century novels have long provided material for more recent literature and film: retellings of classic narratives from new perspectives (Jean Rhys's Wide Sargasso Sea), contemporary updates (Clueless), fictionalized versions of their authors' lives (Colm Toibin's The Master). But Half-Life of a Stolen Sister may be the first fictionalized contemporary update of the lives of not one but three beloved Victorian authors.

Those authors are, of course, Charlotte, Emily, and Anne Brontë, renamed the Bronteys and relocated from the moors-adjacent Yorkshire village of Haworth to an apartment in Haworthy House, a doorman-and-elevator building in an American community that resembles New York City with a town green and single art gallery. Variously humdrum, poignant, and absurd, the Brontey world has YouTube and blogs, soy milk and bagels, limousines and beach resorts—although the sisters wear "prim, old-fashioned dresses and their hair . . . pulled up in tight buns," correspond with their editors by snail mail, and die of consumption.

Only the audaciously inventive, deeply knowledgeable, and empathetically satirical Rachel Cantor could pull off this slippery cross-fertilization of past and present. Cantor hews closely to Brontë facts: devastating early losses of a beloved mother and older sisters; childhood fantasy worlds captured in tiny writings; the travails of an adored deadbeat brother; failed career efforts (offices and nannying take the place of schools and governessing); literary failure, then success (with sly updates of the familiar Brontë novels); and early deaths.

A panoply of narrative forms—diaries, letters, postcards, and emails; biography excerpts and interview transcripts; screenplays and memos—bring to life observant Anne, iconoclastic Em, bloviating Branwell, their domineering father, and a host of minor characters. But the center of the novel is Lotte. Nearly crushed between her shy awkwardness, literary ambition, and desire for male approval, she nevertheless persists. Her ruminations about narrative, character, writing, gender, love, and grief bespeak both Lotte's and Cantor's literary acumen.

Richly layered, insightful, funny, and sad, Half-Life of a Stolen Sister is a gem of a novel for any century.

Rebecca Steinitz '86 is an education and communications consultant and the author of Time, Space, and Gender in the Nineteenth-Century British Diary.

__________________________________________________________________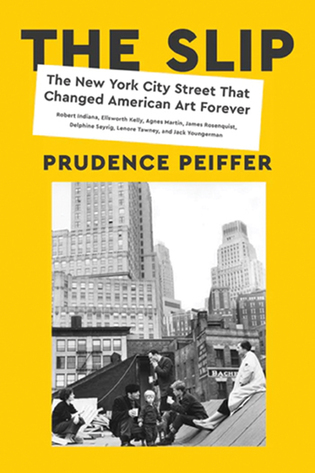 The Slip
Prudence Peiffer '02
Harper, $38.99
Reviewed by Alexi Worth '86

The story of a "strange little street" that was once home to a strange little group of artists, The Slip is an ambitious and unusual group biography, set in a time when downtown Manhattan was very different from its present self. As the name implies, Coenties Slip was once a berth for ships—Melville mentions it in the first page of Moby Dick. By the end of the nineteenth century, the slip itself had been filled in, becoming a short street lined with warehouses. As ship traffic diminished, the warehouses emptied out, and by the mid-1950s, artists were moving in: among them, Jack Youngerman, Ellsworth Kelly, Agnes Martin, Robert Indiana, Lenore Tawney, and James Rosenquist.

Peiffer focuses on these six "Slipmates," along with Youngerman's wife, the not-yet-famous French actress Delphine Seyrig. They were a disparate group, united partly by coping with adverse circumstances. The neighborhood was barren, the lofts old, dirty, illegal, and unheated. One visitor remembered Rosenquist "jumping up and down as he talked, perhaps less out of animation than to keep himself warm." The Coenties group's deepest connection was ambition: the shared sense that it was time for a "counter surge," a new kind of American art that would move on from abstract expressionism.

Peiffer is a deft, nuanced writer. Describing each artist's development, their friendships, crises, and triumphs, she gives us a vivid tour through the tiny, interconnected art world of the early 1960s. By the middle of that decade, though, the street she describes was gone, nearly all its old warehouses replaced by the giant financial towers that stand there today. While it lasted, Peiffer argues, Coenties Slip was much more than just a cheap place to live.

Alexi Worth '86 is an artist based in New York City.