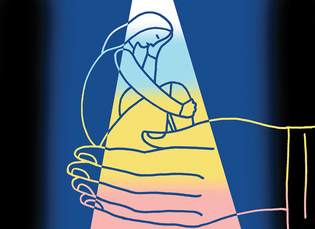 Anthony Russo
After taking a medical withdrawal in December 2021, Lucy Kim '24 was given 72 hours to vacate her dormitory and return her key card. A second-semester sophomore studying molecular biology, biochemistry, and global affairs, Kim struggled with a rare non-24-hour sleep-wake disorder—staying awake for 40-hour stretches and, at times, hallucinating. Her withdrawal meant she no longer had Yale health insurance, and she had no guarantee of readmission. She leased an apartment in New Haven, working as a private tutor to make ends meet.

Kim, who was reinstated that fall, is among the last undergraduates to take a medical withdrawal. Following Yale's January announcement of a more flexible medical leave of absence, this August students received information on extensive new mental health–related reforms to university policy. It was the result of a settlement agreement arising from a class action disability discrimination lawsuit filed by the nonprofit Elis for Rachael (EFR) in November 2022.

Named for Rachael Shaw-Rosenbaum '24—who died by suicide in March 2021—and composed primarily of alumni from the 1960s to the 2020s, the nonprofit aims to "push Yale to support, rather than punish, students when they are ill."
"It's a major stride forward," says Elis for Rachael cofounder Alicia Floyd '05, referring to the new policy. It allows students to extend their healthcare coverage for a year, provides for access to campus—as well as an option for students with urgent medical needs to petition for part-time study—and simplifies the return process.

"My hope is that the changes that have emerged from these discussions will make it easier for students to ask for support, focus on their health and well-being, and take time off if they wish, knowing they can resume their studies when they are ready," said Yale College dean Pericles Lewis in a message to students.
Floyd says Yale's resistance to reforming its policies over many decades lies, in part, in the university's practice of "weighing out the liability" for different situations, which can overshadow the best interests of the student.

As much as the new reforms represent change for a culture traditionally bearing "very little tolerance for human frailty," as EFR cofounder Paul Mange Johansen '88 put it, Floyd cautions that implementation is key.

For now, there may be reason for optimism. There's the new Yale Campus Mental Health Allies, a collaboration of EFR and the Yale Student Mental Health Association. YCMHA will have individuals who represent student groups voicing concerns and questions about Yale's mental health services and policies. "The purpose is to get feedback," Floyd said. "We are nothing without student feedback."
Kim, who will graduate in May, has been recruiting undergraduates to serve as "time-away mentors" to help navigate the process of taking leaves and returning to campus.

"I don't feel resentment toward Yale," Kim said. "I think I stand in a unique position to make things better for students in the future."