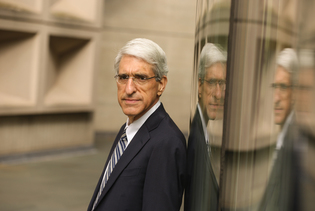 Mark Ostow
Peter Salovey '86PhD announced on August 31 that he would step down as president of Yale on June 30 of next year, after eleven years in office. "There is no perfect moment" for a change in leadership, he wrote; "there is always more to do. Yet, I believe the best time to search for a new leader is when things are going well."

Salovey made the case that Yale is now "a stronger university, and over the past decade, one that has made serious and meaningful strides to be even more preeminent in teaching and research, in addressing pressing global challenges, and in preparing the next generation to serve and lead worldwide."

During Salovey's ten years in office, Yale has made major investments in campus buildings: the renovation of the Hall of Graduate Studies as the Humanities Quadrangle, the creation of the Schwarzman Center from Commons and Memorial Hall, the renovation of Kline Tower, and the construction of the Yale Science Building, among others. Salovey's term has also seen the identification of new priorities in science and engineering, including the Wu Tsai Institute for neuroscience and a major expansion of the faculty at the School of Engineering and Applied Science. He also oversaw a 15 percent expansion of Yale College enrollment with the addition of two new residential colleges.
His presidency has also had its share of controversy. When a dispute about Halloween costumes in 2015 turned into a series of protests and debates about race and free speech, Salovey faced criticism from both sides for his handling of the situation. And more recently, many alumni were dismayed by the university's decision to do away with petition candidacies for the elected seats on its board of trustees.

Salovey says he plans to "return to the Yale faculty, work on some long-delayed writing and research projects, and renew my love of teaching and working with students while continuing to help with fundraising."

Meanwhile, the search for Salovey's successor began in September with the appointment of a search committee, chaired by senior trustee Josh Bekenstein '80. The other members of the committee are trustees Catharine Bond Hill '85PhD, William Kennard '81JD, Ann Miura-Ko '98, Joshua Steiner '87, David Sze '88, Marta Tellado '02PhD, and Michael Warren '90; and faculty members Steven Berry, Daniel Colón-Ramos, Jacqueline Goldsby '98PhD, and Anjelica Gonzalez.

The committee held listening sessions for members of the Yale community in late September, and they are soliciting opinions from alumni at https://www.yale.edu/board-trustees/search-next-president-yale-university.

While the list of candidates being considered by a presidential search committee is rarely made public, a couple of facts are worth mentioning. One: except for Benno Schmidt '63, '66LLB (1986–1991), every Yale president since 1937 has been chosen from the ranks of the university's faculty. Two: Yale is the only Ivy League university that has never had a woman president—except for Hanna Holborn Gray, who served as interim president during the search for Kingman Brewster's successor. But as they say in finance, past performance is not necessarily indicative of future results.