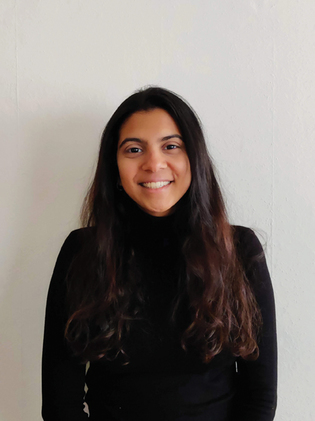 Banofi Leather
Two years ago, Jinali Mody '23MEM (left) enrolled at the School of the Environment. "I knew I wanted to do something about climate change," she says. "I just didn't know what." This past September, Mody and two other Yalies won a $1 million international prize for student entrepreneurship for a scheme to turn waste from banana plants into a sustainable substitute for leather.

"All the vegan leathers you see on the market are plastic, not plant-based, so they're not sustainable," she explains. Her product helps deal with India's banana waste problem (a banana crop produces ten tons of waste for every ton of fruit) while offering a nonanimal leather alternative that is biodegradable.

Influenced by her classes at Yale, Mody had already come up with the idea for her startup, Banofi Leather, when the 2023 topic for the Hult Prize—sustainable fashion—was announced. She formed a team with Isobel Campbell '23MEM and Maggie Boreham '24MBA to compete, and eventually
they were chosen from among 10,000 teams for the grand prize.

Now Mody is in Kolkata, where Banofi is producing leather for bags and
doing research and development toward making material for shoes and
furniture. Products from manufacturers using Banofi leather, she says, will soon
be on the market.