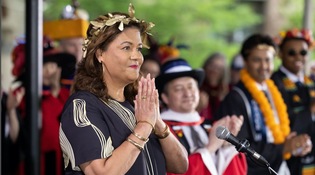 Dan Renzetti
Good afternoon, and congratulations to the Class of 2023!
I am tremendously honored to have been chosen as your Class Day speaker.
I would like to thank President Salovey …
… Dean Lewis …
… the members of the Class Day Committee …
… the countless and tireless organizers of Yale's commencement weekend ceremonies …
… the members of the Board of Trustees who have joined us today …
… the heads and deans of Yale College …
… the members of the Senior Class Council …
… the faculty, staff, parents, siblings, aunties, uncles, cousins, friends, and alumni in attendance…
… and, of course, the glorious members of the Class of 2023.
We are all so proud of you, and we are here to honor your many achievements at Yale …
… to recognize this milestone you have each reached …
… and to celebrate you as a class, as you mark your time together as Yale students.
I've had the privilege and the perspective of four decades of reflection since I graduated as a Yale senior in the class of 1984.
In that time, I became a tenured Yale faculty member – the first one to serve as Class Day speaker.
So I come to you as a teacher.
I became a Yale mom. My sons were students who graduated in the Classes of 2020 and 2021.
And I became a New Havener—a proud citizen of this city that I love.
Whenever I return to New Haven in the spring, I know how sweet the air will smell, and how soft it will feel …
… I know which trees will be lush and in bloom …
… and I know the sounds I will hear throughout Yale's campus …
… sounds of particular birdsong that I've missed in other places, and the countless chatterings of people saying goodbye for the summer or for the unseen future.
I learned more as a Yale undergraduate than I could possibly recount:
How to row six seat in a shell …
… how to dance salsa and merengue …
… how to read texts closely until meanings and patterns and nuance came into clarity …
… how to work harder than I ever imagined, and have more fun than I ever dreamed possible.
From crew I learned to try something I'd never done before. I also learned that without communication, the boat stops dead in the water.
From literary study I learned that complexity and contradiction can be understood simultaneously through clear language, and that the human experience can be lived in infinitely different ways.
I learned that hard work can yield tremendous results, and that when you learn your friend's dances, you share culture and connect in joy.
When I graduated from this university, I never supposed I would come back to live here.
When I did return as a faculty member and then a department chair…
… after many jobs, journeys, and cities …
… I had the privilege of teaching and learning with Yale students and colleagues for 15 years.
I believe classrooms are sacred spaces where we wrestle together with difficult things …
… where we learn through argument …
… and, in the case of the arts and literature, where we behold with wonder the power and beauty with which artists show us who we humans are.
At Yale for thirteen weeks a semester we are together in community, and year after year I saw the revelations that can happen in the commitment of that shared work and purpose.
The classroom, for me, is a hive of intensity and love, for each other and for the work at hand, and I have experienced that love and connection to endure whenever I see or hear from former students.
All of these remarkable things that have fundamentally shaped me happened here, at Yale and in New Haven.
In the math of my own life, I've lived longer in this city than anywhere else – longer than Washington, D.C., where I grew up, and New York, where I was born and have now lived for many years.
New Haven will always be home.
In that direction, towards East Rock, is where I lived and raised my children in the most beautiful neighborhood in the most beautiful house with a magic garden, and a magnolia tree with the scientific name, "Magnolia acuminata Elizabeth," that my late husband planted as a gift …
… over there on College Street is where my husband had his restaurant with his brothers, the legendary Caffé Adulis, and generations of Yale and New Haven folks were introduced to "fusion" food from the Horn of Africa, and enjoyed dishes with jazzy names like "shrimp barka" and "two tomato gig" …
… and just over there, right through Phelps Gate, is the civic heart of New Haven itself:
… City Hall, the public library, and the New Haven Green…
… where so much community gathering and building has happened over the centuries, as with any New England town green …
… and where, as I've learned through the historical research that so often feeds my poetry, history shines a light on the present day.
It was on the New Haven Green that Center Church, in the early 1700s, began holding the commencement exercises for generations of Yale students, before we came here, to the Old Campus.
Throughout 1839 and 1840, it was on the Green that a group of Africans from what was then called Mende-land – captives from the slave ship Amistad – were let out for daily exercise during the trial that would ultimately win them their emancipation.
The New Haven Green is a "common land," as first called by the city's founders 400 years ago.
Then, as now, in the ideal, it is a space of encounter and empathy.
Today I want to tell you a story about something that happened in a close-by New Haven neighborhood, about 200 years ago.
Some of you may know this story. But I believe that most of you are hearing it for the first time. I first learned of it from two amazing members of this Yale community, my friends Michael Morand at the Beinecke, and Professor David Blight. I then learned more through research, and through a wonderful documentary called "What Could Have Been" made by a born and raised New Havener who now works at the Beinecke, Tubyez Cropper.
The story tells of a wild and beautiful idea presented in this city on September 7th, 1831.
That was the day a proposal for a Black College was announced to the broader public of New Haven.
In 1831, only a small fraction of Black Americans were free.
And to be free and Black was still to be societally constrained.
The rest were enslaved.
At that time, there were no universities for Black students.
Yale did not welcome them.
In fact, Yale did not enroll significant numbers of Black students until the late 1960s.
And so this dream—which was the vision of a group of Black and white abolitionists—would have been the first Black college in the United States.
Imagine, for a moment, this dream of freedom made real:
Decades before slavery would end in this country …
… and before any of the other great HBCUs that are part of the landscape of American higher education today had been built …
… this college would have stood right over there, on Wallace and Water Streets.
The plan was for a 20-acre campus.
A main building had been identified and secured.
The college would have offered a wide-ranging, innovative curriculum—one grounded in classical, agricultural, and mechanical instruction.
It would have been led by design by Black and white leaders, and funded by subscribers from up and down the Eastern Seaboard.
It would have been a stone's throw from Yale.
It was a truly visionary idea, carefully planned and ready for execution.
But to many white, landowning New Haveners who governed the town in 1831, the Black College was not seen as a dream.
It wasn't recognized as a proposal for possibility and progress …
… for the liberation that comes from learning …
… or for the limitless opportunity that lies at the heart of education.
In town meetings discussing the matter, participants said the Black College was "incompatible with the prosperity, if not the existence, of the present institutions of learning."[1]
They derided the idea of Black students interacting with Yale students "in all the pride of supposed equality,"[2] …
… and said the college was "destructive of the best interests of the city."[3]
And so within days of the college announcement, New Haven's mayor, a Yale graduate, organized an opposition just across the Green.
At City Hall, New Haven's white townsmen quickly gathered—hundreds of them, the leading voices of whom were also graduates of Yale—and together they voted to reject the Black college.
The vote was a resounding 700–4.
And that was that.
Now, I am a literary scholar.
My teaching and scholarship and present work always exist with a deep understanding of history.
And as I have learned since I was a Yale student myself, the beauty of the study of history is that we find the truth hiding in plain sight.
The truth is in court records.
It's in the Census.
It's in the way we've marked the land.
It's in the stories our elders carry.
And in records of community meetings.
The story of the Black college has always been there—but it has only recently become more known, and explored, right here on this campus, as it should be.
The University is now reckoning directly with this story and others, evolving as it must in order to move forward as an ever more just and truthful institution.
History enables us to ask better and more informed questions.
And so I ask today:
What might have happened if that dream of the Black college had come to pass in 1831?
How would it have transformed this community—not just intellectually, but spatially?
Today, where we see the intersection of I-91 and I-95, we would see the college.
Imagine—today—a New Haven with a vibrant and easily reachable waterfront, where that college had welcomed its students for two centuries.
Imagine a New Haven with all its neighborhoods seamlessly accessible …
… not shadowed by the freeways that famously charged through disenfranchised communities.
Imagine generations of educated and empowered leaders standing alongside Yale's and New Haven's for generations, building and enriching this great city.
We can envision and explore the possibilities of this story—and we can understand what was lost.
Remember, though higher education was once nearly unimaginable for Black Americans, they did imagine it.
Just as women imagined it …
… and people who were not wealthy or white imagined it …
… and people who were immigrating to the United States imagined it, before it was available to them.
All across the land as the 19th century progressed those many different dreams of freedom began to blossom …
… from women's colleges to the great land-grant universities …
… all those many different institutions that were ultimately built to serve the full American population – all the people who yearned for the empowerment and enlightenment that deep knowledge and critical thinking grants.
I believe the imperative to help empower other people through education is still urgent today.
I believe the dream of freedom, for everyone, has still not been made real.
The Yale I came to first as an undergraduate in 1980—only a few years after the first women had been admitted—and then as a professor in 2000, is the place where I learned to think …
… where I learned history, culture, and interdisciplinary analysis …
… where I sometimes fought to be taken seriously and was taken seriously …
… where I found my voice …
… and where, despite the powerful teachings of Black culture that came from my own household, I first learned about the extraordinary field called African American Studies.
The New Haven I came to call home is the place where African American Studies—a Yale department that has led the world over for its entire existence—became a driving force in my life.
I came back and taught classes that were revelatory to me when I took them as an undergraduate …
… classes that showed me the vast power, analytic and strategic lessons, and resilience of the African American tradition.
Lessons that are available and inspiring to anyone who chooses to learn them.
This tradition sits squarely at the center of American culture.
Indeed, it is American culture.
And that is why I think that African American Studies is the key to grappling with the still unsolved questions of freedom and full empowerment in the United States.

My professional journey has taken me from journalist, to professor, to scholar, to poet, to memoirist—and now to philanthropy, and my work leading the Mellon Foundation.
I never expected to go through the unusual door that is philanthropy; when I sat where you are in 1984, I did not even know what philanthropy was.
But today I stand at the helm of the nation's largest funder of the arts and humanities.
I am the steward of its considerable resources, and the voice of its clarion mission to lift up creativity, artistic practice, and the humanistic tradition at every turn.
The Greek root of the word "philanthropy" translates to "love of humankind."
"Philein," meaning to love, and "anthropos," meaning humankind.
Love of humankind.
And when I look back on my professional journey … ending with "love of humankind" … I can see that the throughline is no different than that which animated my teaching in a Yale classroom:
The will to share beauty and understanding.
Empathy.
Curiosity.
The belief that in learning history with open eyes, we can better understand who we are—and, crucially, who we could become.
And the belief that with these tools we can truly become a more just society animated at every turn by love of humankind.
At the Mellon Foundation, one of our signature projects is the Mellon Monuments Project, which is guided by these same principles.
The goal of this project is for our country's monuments and memorials to reflect our actual history in the United States—not mythology, not misrepresentation.
We support visionaries in our communities who are creatively working to ask and to answer:
Who is remembered in public spaces—and who is not.
Which histories are deemed important—and which acts and actors venerated.
We are asking questions about power.
We support a monument honoring the hundreds of thousands of people who passed through the Angel Island Immigration Station in San Francisco Bay …
… and the history-telling mural panels of the Great Wall of Los Angeles in Southern California …
… and the Totem Trail in Juneau, Alaska, which commemorates the legacies of the Tlingit, Haida, and Tsimshian peoples.
We are supporting public remembrances of the Rapid City indigenous children, in the Black Hills of South Dakota …
… the undertold histories of Appalachian Virginia …
… the protestors for LGBTQ rights at Stonewall in New York City.
… and the new monument in Newark to Harriet Tubman, whose courage in leading so many people to literal freedom is an inspiration to us all.
All across the country we at Mellon are asking everyone to see and to recognize the expansive … entangled … multivocal and magnificent American Story.
For my colleagues and me, history is not who was right versus who was wrong.
It is, instead, understanding humanity in its many contradictions, and its countless collective endeavors.
You graduates have gone to school in a place where the study of history is central to the university's identity.
This great university teaches us that we don't close our eyes to history—we reckon with it.
And this great university taught me that it was imperative that I share with you the history of the Black College in the town where we gather today.
From this story I draw a direct line to our country in 2023:
Right now, if you were enrolled at a public university in some states, the things you all learned in ethnic studies or gender studies at Yale soon could not be taught to you in the classroom.
Right now, in the United States, books are being banned at the highest rate since the American Library Association first began documenting those numbers—with five times as many books challenged last year as when you entered Yale in 2019.
Right now, we are feeling the impact of these bigger and bigger steps towards restriction, censorship, and disempowerment in education.
And I must ask:
What, exactly, do those who are banning education fear?
Is knowledge itself feared?
Is freedom of mind feared?
Is a truly functional, and mutually respectful, multicultural democracy feared?
Is an educated populace that can make meaning of our lives …
… and think productively about how to make life better for ourselves and for others …
… is that what makes people keep the freedom of deep learning from others?
I reflect on these questions, and I hear the rallying cry of Tracie D. Hall, the warrior-poet librarian leader of our nation's American Library Association, when she says, as she does repeatedly:
"Free people read freely."
"Free people read freely."
Why do we learn, after all?
We learn so we can grapple with difficult things.
We learn to move further towards illumination.
We learn to engage with the human spirit, imagining ourselves in the lives of others, in other places, in other times.
We learn and we understand that we are not alone—that we are in fact joined in many different ways that transcend the particularities of our race, our gender, our backgrounds.
We learn because learning is exhilarating.
My primary art form is poetry.
I have been a poet longer than I have been a scholar, or a professor, or a leader in philanthropy.
The humanities have always been central to Yale's identity.
And further, Yale is a place that has always explicitly valued poetry, and served as a caretaker for its enduring art, its daily craft, its careful analysis, and its deep purpose.

I believe that poetry is the soul distilled.
It is the highest form of distilled power and precision in language.
It is what can bring us enlightenment in its many forms—written, recited, sung aloud.
Poetry is what Adrienne Rich called "the dream of a common language"; the shared understanding we hope to have.
What is the common language of a Yale education, in all its varied expressions, and the common objective of the opportunities you, as Yale graduates, will generate for others in the years to come?
We poets, from time immemorial, have tried to define freedom and found it ineffable.
Pauli Murray, the great jurist, episcopal priest, poet, and graduate of Yale Law School, who is now immortalized as the namesake of one of our residential colleges, crafted a couplet on freedom that is resonant today.
I imagine that couplet in response to those townsmen of New Haven 200 years ago, who voted 700–4 to reject the Black College.
Pauli Murray wrote:
"Always the dream was the same.
Always the dream was freedom."
To gesture again to my work at Mellon, one of my proudest projects is happening right here, in New Haven—imagined and led by the poet and Yale Law School graduate Dwayne Betts.
He came to understand the true liberatory power of books through deep reading and study in solitary confinement while incarcerated, beginning as a sixteen-year-old in an adult prison.
At the age of you students here, someone slid a book of poems under the door of his solitary cell, and that began his own journey to becoming a poet, and so much more.
His Project is called Freedom Reads.
It aims to put libraries in every single prison in this country.
It is a simple idea, a beautiful idea, and a resonant idea for our time together today.
The hard work and study you have done and you have all found in books here at Yale has expanded your minds and souls.
That right must be afforded to people who are incarcerated.
We must build libraries and bring books into every single prison in this over-prisoned country.
That is the freedom dream.
Because if we here deserved the power, the imagination, the sharpened thinking, the other worlds, the empathy, and the knowledge of books, then so, too, do people everywhere.
And that is something we can do:
Book by book …
… soul by soul …
… freedom dream by freedom dream.
As we move towards conclusion, I look around at you seniors ready to receive your hard-earned degrees, and I see so much beauty.
I see your action and your optimism, your love and your connection to each other.
Even as these years at Yale have no doubt been challenging, even as you have experienced something few other Yalies have undergone …
… a global pandemic, and all the challenges it brought to your lives and to your learning …
… even then I still see your lack of cynicism, your rejection of resignation, your refusal to choose despair over joy—your life-force.
So, too, do I see a multi-generational community of your loved ones.
They are the wealth that you, the Class of 2023, also hold.
The place you come from and the people who loved you have shaped you just as much as your Yale education.
And here are some of the things that I, as the mother of two Yale graduates – and the professor auntie of countless others – would offer to you as you leave for your unseen future:
Be an autodidact, because no classroom—not even a Yale classroom—has taught you everything you need. Push past where your knowledge stops. Keep reading … keep asking questions … keep seeking out new ideas, new experiences, new perspectives, forever.
Nurture a sound mind in a sound body. Rest to rejuvenate … eat well and healthfully, be physically ready for all that life will call you to – intellectually, emotionally, spiritually.
Speak up and be courageous—even when you are afraid. Speak truth to power. Strong communities are shaped most by potent, useful, loving, and well-intentioned challenges from within. I learned that here at Yale, in action.
Take someone with you. By which I mean bring into the room the voices that are not in the room.
As the great poet Gwendolyn Brooks writes, "Conduct your blooming in the noise and whip of the whirlwind." There is no quiet. The times will always be challenging.
Never forget to live fully … and consciously … with joy … and—always—with love.
Class of 2023, we honor you.
We celebrate you.
And we love you.
And before we go truly celebrate at all the festivities that have been planned for you, I leave you graduates with one question:
What will you do to make the dream of freedom, for everyone, real?
I cannot wait to see what you achieve.
Congratulations to you, the members of the Class of 2023.
[1]https://news.yale.edu/2021/11/01/yale-publicly-confronts-historical-involvement-slavery
[2]Moss, "Education's Inequity", p. 27.
[3]https://news.yale.edu/2021/11/01/yale-publicly-confronts-historical-involvement-slavery