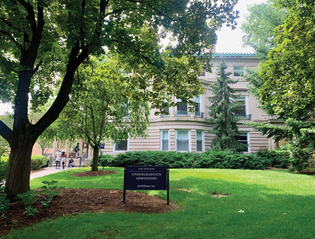 Mark Alden Branch '86
This summer's Supreme Court decision will change the way the staff of the Office of Undergraduate Admissions on Hillhouse Avenue evaluates student applications. View full image
Like other selective colleges all over the United States, Yale is now revising its admissions process after the US Supreme Court struck down race-conscious admissions policies in a decision announced on June 29. Writing on behalf of a 6–3 majority, chief justice John Roberts determined that such affirmative-action policies at Harvard and the University of North Carolina violated the equal protection clause of the 14th Amendment. Roberts wrote that a prospective student may still write in an application essay about "how race affected his or her life, be it through discrimination, inspiration, or otherwise," but cautioned that "universities may not simply establish through application essays or other means the regime we hold unlawful today."

In a statement issued on the day of the decision, President Peter Salovey '86PhD wrote that he was "deeply troubled" by the decision. He added that Yale will "continue to foster diversity in its many dimensions and will use all lawful means to achieve it."

A separate statement from Yale College dean Pericles Lewis and dean of undergraduate admissions Jeremiah Quinlan '03 detailed ways that Yale College will try to attract and support a diverse student body in the wake of the decision. They include expanding admissions outreach to students in under-resourced school districts and historically marginalized communities; supporting pipeline programs that prepare students from low-income, underrepresented, and rural communities for college; continuing Yale's investment in need-based financial aid; supporting the university's four cultural centers; and establishing an Office of Educational Opportunity that will "promote educational equity and ensure that all undergraduates have widespread and ready access to Yale's educational, advising, and cocurricular opportunities."

The court's decision prompted new scrutiny of other forms of preference in elite college admissions, most notably the special consideration given children of alumni—known as legacy preference. A study of Ivy and other elite colleges released in July showed that legacies are four times more likely to be admitted to those colleges than non-legacies with similar test scores. The proportion of legacy students in each Yale College entering class has averaged about 12 percent in the last decade.

Wesleyan University announced in July that it was doing away with legacy preference. And the US Department of Education is investigating a complaint from a nonprofit group that claims Harvard's preference for legacies—and for the children of major donors—violates the Civil Rights Act. "The need for the Department of Education to put a stop to this discriminatory practice is particularly acute now that the Supreme Court has severely limited the use of race as a factor in higher education admissions processes, which is expected to have a negative impact on campus diversity," reads the complaint from Lawyers for Civil Rights, acting on behalf of three Black and Latino community groups. "The fact is that, if the donor and legacy preferences did not exist, more students of color would be admitted to Harvard."

In a July 23 editorial, the Yale Daily News called for an end to legacy preference, calling it "salt in the wounds of those mourning the loss of racial diversity on our campus." At press time in early August, Yale officials had not commented on the future of the practice.

Quinlan says the admissions office will be "announcing further outreach initiatives and thoughts about our admissions process in light of the new legal landscape" in September.