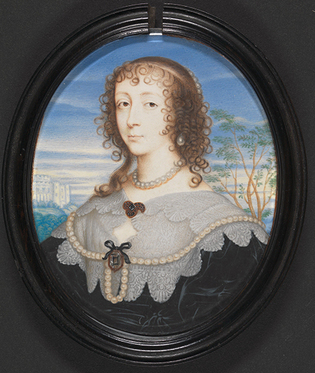 Yale Center for British Art, Paul Mellon collection
One of several reasons that King Charles I of England and Scotland lost his head—literally—was due to his own wife. He had married a Catholic, and many English protestants took offense. View full image
When King Charles I headed to his execution on January 30, 1649, he was dressed in black and wore his blue Order of the Garter sash. The Order of the Garter is Britain's highest chivalric order, dating back to 1348, and it typically shows the arms of St. George, the patron saint of England. The sash Charles wore depicted a small scene of St. George fighting the dragon, carved in onyx and surrounded by 21 diamonds. On the reverse, another set of diamonds encircled a portrait miniature of his French wife, Henrietta Maria, set in a gold case with an enameled lid. A print by Wenceslaus Hollar illustrates the insignia and the garter, clearly showing that when the object was opened, it revealed a miniature of the king's beloved wife.

While the exact miniature of Henrietta Maria that Charles wore to his execution is unknown, it was likely similar to her miniature shown here (at actual size). It is now in the collection of the Yale Center for British Art (YCBA). In this miniature, Henrietta Maria is set against a cityscape that depicts Windsor Castle. The artist has copied the likeness of Henrietta Maria from a portrait by the Flemish master Sir Anthony van Dyck; a close comparison can be found in a 1636 Van Dyck painting that is now at the Metropolitan Museum of Art.

Copies of Van Dyck's work, in miniature format, were popularized at the Stuart court in the 1630s by the miniaturist artists John Hoskins and David des Granges (1611 to c. 1672); the latter was the author of the YCBA version. David des Granges was born into a French Huguenot family in Blackfriars, London, a parish which was home to prominent miniaturists such as Isaac and Peter Oliver, and renowned court artists such as Van Dyck and Cornelius Johnson. While today we often view copying as a derivative practice that points to an artist's lack of imagination, during the seventeenth century these miniature copies after Van Dyck were highly appreciated. Charles I even preserved a selection of portrait miniatures after Van Dyck of his wife in his Cabinet

Room at Whitehall Palace. According to contemporary records, eight miniatures of the queen were displayed together, several of which have been identified as being after Van Dyck. Some of these miniatures were housed in elaborate gold enameled frames, others in ivory or amber boxes, some set under crystal for protection. They were evidently of huge personal significance to Charles I.

Although multiple miniatures of royal sitters were often made, they were not like prints, which could be produced cheaply and distributed more extensively to those not directly associated with the court. Miniatures required artists to spend considerable time painting careful and precise details on a minute scale. As such, in the seventeenth century, they were more exclusive to elite circles.

An important function of the portrait miniature was its role as a love token, and there is no doubt that Henrietta Maria and Charles I used miniatures in this way. When Charles I was courting Henrietta Maria during 1623 and 1624, he sent Henry Rich, the First Earl of Holland, to France with a miniature of Charles himself—perhaps one similar to the miniature of the king painted by Peter Oliver (which is now at the YCBA)—to show the future queen. Portrait miniatures were understood in this period as ways of communicating affections in courtship, which is demonstrated in a letter Holland subsequently wrote to Charles informing the king that Henrietta Maria "could not contain her self from a passionate desiring to see your Picture" and that she looked at the miniature only in the privacy of her own cabinet, where she gazed upon it for a full hour before returning it to Holland.

David des Granges's miniature of Henrietta Maria was once part of the huge collection of the eighteenth-century antiquarian Horace Walpole, who amassed paintings, furniture, sculptures, and little curiosities—such as a lock of Mary Tudor's hair and a "magic mirror" used by Queen Elizabeth I's court astronomer, Dr. Dee, to summon up spirits. Walpole's prized collection of portrait miniatures was displayed in his "Green Closet" at Strawberry Hill House. Henrietta Maria was exhibited, alongside treasures by Nicholas Hilliard, Hans Holbein the Younger, and other masters of art. Following Walpole's death, his collection was dispersed in a huge sale that lasted 28 days and was described as the "sale of the century." The portrait was purchased by Edward Smith-Stanley, the 13th Earl of Derby, in whose family it remained until it was acquired for the Yale Center for British Art in the 1970s.