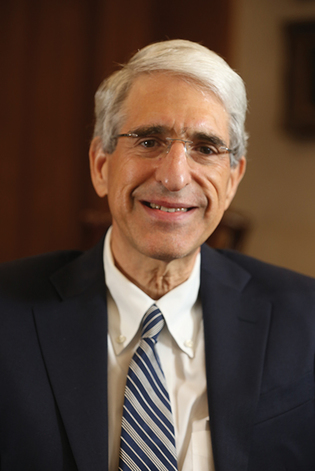 Mark Ostow
The Yale Alumni Magazine publishes a letter from President Peter Salovey '86PhD in every issue. In this issue, the president looks forward to the 100th anniversary of the Yale School of Nursing. View full image
I write to you in mid-summer—a quieter but exciting time, as we look with anticipation toward the new fall semester. The coming academic year is a truly remarkable one for the Yale School of Nursing (YSN), which celebrates its centennial.

There is a special place in my heart for nursing. My mother, Elaine Salovey, received her education as a registered nurse at Jewish Hospital and Medical Center of Brooklyn. During my childhood in New Providence, New Jersey, and my teenage years in Williamsville, New York, my mother worked at area hospitals. And when the family eventually settled in Southern California, she served as the director of nursing at several geriatric and rehabilitation facilities. Over the years she told me countless stories—about the patients she cared for, the hardworking colleagues she worked with, and the complexities of our medical system. She found her work painstaking but incredibly rewarding, and her experience gave me a deep appreciation for the vital role nurses play within the ecosystem of American health care.

The history of nursing in the US is deeply intertwined with the history of the Yale School of Nursing. Founded in 1923 with funding from the Rockefeller Foundation, YSN was the first school within a university to offer nurses a full educational experience rather than an apprenticeship program. Annie Warburton Goodrich, the chief nursing inspector for US Army hospitals during World War I and the organizing dean of the US Army School of Nursing, was appointed as the first dean of YSN and the first woman ever to serve as a dean at Yale.

Goodrich believed that a nursing education should be mindful of the larger communities in which we live. So, YSN's educational curriculum under her leadership emphasized that future nurses were to be "scientifically informed, technically expert, and socially experienced." This was an early expression of the importance of social justice and community integration.

While those values remain fundamental, the school has grown and developed in significant ways since Dean Goodrich retired in 1934. YSN dean Florence Wald '41MN, '56MS, led the school as its fourth dean from 1959 to 1966 and then brought the hospice movement to the United States from England. She established the first hospice in America in 1971—Hospice Incorporated, in Branford, Connecticut. In 1974, YSN opened admission for students with baccalaureate degrees but no prior background in nursing through its Three-Year Program for Non-Nurse College Graduates, now known as the Graduate Entry Prespecialty in Nursing (GEPN). By 1975, YSN offered ten specialty programs and tracks and was considered the vanguard of nurse practitioner and nurse-midwifery education at the graduate level.

As YSN concludes its first century, I am filled with optimism and gratitude. I am grateful to those who have brought the school to where it is today and offer profound thanks to the many YSN faculty and staff members, students, practitioners, educators, and researchers who have helped the Yale and New Haven communities make it through the COVID pandemic, as well as to interim dean Holly Powell Kennedy for her exceptional leadership.

YSN's new dean, Dr. Azita Emami, began her term in August, and I could not be more thrilled. An internationally recognized nursing leader and investigator, Dean Emami brings to Yale a dedication to fostering wellness and more than two decades of experience shaping research and teaching, advancing the role of nurses in clinical practice, and improving health care equity and access. She previously served as the executive dean of the School of Nursing at the University of Washington, where she oversaw teaching, research, and clinical practice across three accredited campuses that graduate more than 1,000 nurses annually with bachelor's, master's, or doctoral degrees. Dean Emami avidly advocates for enhancing educational, clinical practice, and policymaking opportunities for nurses worldwide, and among many other accomplishments, she has brought focus to the critical contributions of nurses in identifying and addressing social determinants that directly affect health and wellness. As a trustee of the Robert Wood Johnson Foundation, her advocacy for health equity and accessible, quality health care for all people is extended beyond nursing. I am delighted that Dr. Emami will usher YSN into its second century.

YSN's centennial launch takes place September 20 to 23, welcoming YSN alumni from all years back to campus. The school will host a series of special lectures and other events throughout the year, on topics ranging from health equity to veterans' care. You can learn more about the centennial slate of programming at https://nursing.yale.edu/centennial. For those interested in the history of the first hundred years of YSN, a book will be available for download on the Eli Scholar platform.

In this exciting moment for nursing education and for Yale, please join me in celebrating the Yale School of Nursing—and its immense contributions to the health and well-being of people around the world and to the profession of nursing.