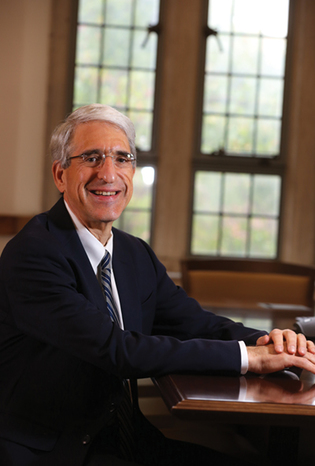 Mark Ostow
The Yale Alumni Magazine publishes a letter from President Peter Salovey '86PhD in every issue. In this letter, the president discusses the Tobin Center—named after a Yale economist, professor, and Nobel laureate. View full image
Dear Friends,
Over the years, I have had the opportunity to get to know many fellow alumni and talk about our backgrounds and journeys to Yale. Through our conversations about triumphs and struggles, it became clear that when good policies—whether local or national in scale—are in place, they can have a transformative effect on families, across generations. For example, my wife Marta's family could never have experienced homeownership until her father, a Navy veteran, received a mortgage courtesy of the 1944 GI Bill of Rights. And I think of my father, Ronald Salovey, the son of immigrants with little means, being able to attend the City College of New York and Brooklyn College because of their free tuition policy at the time.

We all have seen or experienced how local and national policies can have far-reaching effects on the fates and livelihoods of individuals and communities. And while members of the Yale community have played prominent roles in shaping policy since the university's founding, it is worth continually asking: how can a university best effect positive change through policy design?

In April, I was grateful to help inaugurate the new home of a research enterprise at Yale that grapples with this very question. The Tobin Center for Economic Policy—named for the late Yale economist and Nobel laureate professor James Tobin—launched operations three years ago to facilitate and promote policy-relevant research that could benefit families, communities, and the nation. The Tobin Center's founding was animated by recent advances in economics, data science, and analytics. Under faculty director Steve Berry and executive director David Wilkinson '06JD, the center is unlocking new research opportunities to address the enduring challenges facing society and bringing the resulting insights to the policy arena.

At the time of its founding, I wrote in this column about the ways in which the Tobin Center would enhance Yale's role in contributing to society by advancing data-driven discussions of public policy. It is inspiring to consider the center's accomplishments since then. Although it has only existed for three years, the center's work is routinely featured in the media and cited by Congress, federal agencies, and the White House. By providing essential support to professor Zack Cooper, it has propelled the passage of landmark legislation that prohibits surprise medical billing. The center similarly informed policies on issues such as protecting natural resources (with Nobel laureate professor Bill Nordhaus and professor Eli Fenichel) and addressing poverty (with professors Chima Ndumele and Jacob Wallace), public health (with professor Judy Chevalier '89), and K–12 education (with professors John Eric Humphries, Chris Neilson, and Seth Zimmerman).

The Tobin Center's nonpartisan, evidence-based approach has enabled it to assemble and work with policymakers and to contribute significantly to national conversations on Medicare policy, electric vehicle efficiency, the care economy, evictions, zoning, regulation of the digital economy, unemployment insurance, impediments to US infrastructure development, and other policies.
Tobin's work to bring Yale research into the policy arena was made especially salient during the COVID-19 pandemic. It helped, remarkably, to increase vaccine uptake among communities of color, protect nursing homes, and sustain the US childcare supply through the largest-ever survey of the American childcare workforce—generating key insights in partnership with national childcare associations.

I was pleased to welcome US treasury secretary Janet Yellen '71PhD to Yale in April for an enlightening discussion about the work of the Tobin Center. At this event, I announced that the center is launching a major new program on climate economics in support of Yale's Planetary Solutions Project, to build on our strengths in climate economic modeling. In response to Secretary Yellen's call last year for states to implement inclusive and eco-friendly policies, Connecticut governor Ned Lamont '80MBA announced several initiatives with Tobin, including joint research efforts in climate, health, and education.

Secretary Yellen has a special connection to the Tobin Center: Jim Tobin was her mentor and thesis advisor. Professor Tobin, she said, believed that "economics should be about something, and that it should make a difference to the well-being of our nation and the world. . . . These are really the values that the Tobin Center stands for."

Secretary Yellen's career certainly embodies this spirit, and Jim Tobin's legacy lives on—through those he taught and influenced, and now through the Tobin Center. The activity in its new building at the corner of Trumbull and Prospect—at the convergence of policy and research—will benefit millions.

With my warmest wishes,
Peter Salovey '86PhD
President
Chris Argyris Professor of Psychology