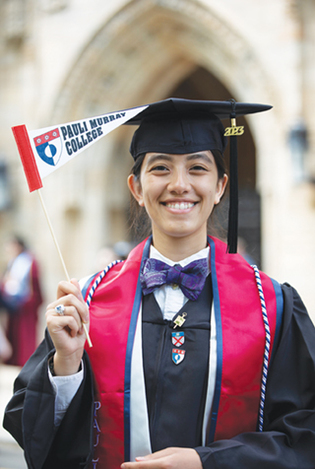 Bob Handelman
Giovanna Truong
Cedarburg, WI
Pauli Murray College
BS (Intensive) in Physics

What drew you to physics as a major?
I started as a chemistry and global affairs person, but I ended up never declaring—because I used to go to all the office hours ever, which is kind of on brand for me, I suppose. I went to one of my physics professor's office hours all the time, and eventually I found out what his research was, and it was so cool. And so I joined his lab. And then I was like, "Oh, well, I might as well be a physics major now."

Which classes were especially formative outside of physics?
One class that was foundational for me was Yiddish, which I have taken since my sophomore year, and which is actually what I'm going to be doing after I graduate. I thought I wouldn't be one of those kids who fell into the category of "what I'm doing has nothing to do with my major." But alas, here I am. Yiddish was mind-blowing—eye-opening. It's the reason I get up in the morning.

Are you going to continue your Yiddish studies?
Next year, I am going to Oxford to get a master of studies in Yiddish.

Besides Yiddish and physics, what did you do outside of class while you were at Yale?
I wrote and drew cartoons for the News. And I was co-minister of fun for the Yale Anti-Gravity Society, which is the juggling club at Yale. We had practices out on Cross Campus, and we would juggle for all the folks walking by. Good times.