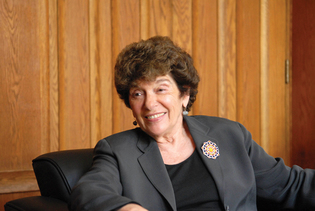 Michael Marsland
Remembered
Betty Trachtenberg (left), who was dean of student affairs in Yale College from 1987 to 2007, died on March 14. She was 89. Trachtenberg, a pianist who studied music in college, started working at the Yale Summer Term in 1974 and climbed in the Yale administration when there were few women in senior positions. As dean, she developed a reputation for toughness but earned the affection of students, who called her "Betty T." With a portfolio that included overseeing first-year counselors, student organizations, and disciplinary proceedings, she referred to herself as "dean of sex, drugs, and rock and roll."
William Sledge, the George D. and Esther S. Gross Emeritus Professor of Psychiatry, died on December 20 at Connecticut Hospice in Branford. He was 77 years old. A native of Alabama, Sledge came to the Yale School of Medicine in 1977. He is known for pioneering the practice of embedding mental health care in hospital-based medical and surgical teams. He was master of Calhoun College from 1995 to 2005. Former Yale president Richard Levin '74PhD wote that Sledge "cherished people in all their individuality, and his insights and empathy suited him perfectly for the role of head of college."

Appointed
Psychology professor Arielle Baskin-Sommers, who has been acting head of Silliman College this year during Laurie Santos's leave of absence, will continue as head for a five-year term. Three other colleges will have new heads beginning July 1: history professor Crystal Feimster will be the new head of Pierson College, succeeding Stephen Davis; Fahmeed Hyder '95PhD, a professor of radiology and biomedical imaging and of biomedical engineering, will succeed Margaret Clark as head of Trumbull College; and Jordan Peccia, the Thomas E. Golden Jr. Professor of Environmental Engineering, will succeed Charles Bailyn, the inaugural head of Benjamin Franklin College.

English professor Cajetan Iheka has been named director of the Whitney Humanities Center. Iheka, who specializes in African literature, ecocriticism, ecomedia, and postcolonial literature, has taught at Yale since 2019. The center, which moved from 53 Wall Street to the Humanities Quadrangle in 2021, hosts events and promotes interdisciplinary research and exchange. Iheka succeeds Alice Kaplan '81PhD.
Honored
Eight writers have been honored with the 2023 Windham-Campbell Prize, a $175,000 award inaugurated in 2013 and administered by the Beinecke Rare Book and Manuscript Library. This year's winners in fiction are Ling Ma and Percival Everett, both of the US; in nonfiction, Darran Anderson (Ireland/UK) and Susan Williams (UK); in poetry, Alexis Pauline Gumbs (US) and Dg Nanouk Okpik (Iñupiaq-Inuit/US); and in drama, Dominique Morriseau (US) and Jasmine Lee-Jones (UK). The recipients will come to campus in September for the Windham-Campbell Festival.