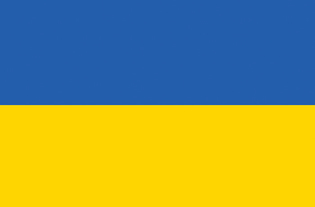 When an authoritarian strongman orders the invasion of an independent neighbor, shock and anger should be the immediate reactions of any reasonable person. As soon as Putin attacked Ukraine, shock and anger poured from the US and many other countries. Sympathy, aid, and standing in solidarity became the order of the day.

But as time goes by, those of us who aren't Ukrainians may become forgetful. A year ago, I talked with three young Ukrainians studying at Yale ("Far From Family," May/June 2022). Recently, I talked with them again to find out how they're doing—and to remind the rest of us that sympathy and aid for their home country remain important. Below are some of their comments, edited for space and clarity.

Yuliia Zhukovets '23: It's the new normal: get up in the morning, check the news and the results in the battlefield, and move on with your day. It's always something in the back of my mind. We held a Ukrainian Week, fundraising for one of the Ukrainian nonprofits, with tables on Cross Campus to grab people's attention—because over the past year people's perception of the war became normal for them.

Our family has a place in the western part of Ukraine, in the mountains. I went to visit them this past winter break. They went to Turkey last summer, and this October they went back to western Ukraine. My mom just went there for the first time since the war started. They're trying to adjust to their lives, but it's like living day to day. They can't really make plans—they're figuring things out as they go. It's definitely been tough on them, especially on my grandparents, who are so used to their house outside of Kiev, and that's where my grandma has her garden. I think they're feeling very homesick. But they're safe.

Yevhenii Monastyrskyi '23MA: There are very few people who are ready to wrap their head around the Ukrainian situation and realize the sheer amount of sacrifice Ukrainians are making. Every day we're losing our best. There are people in the Ukrainian army who are artists and scholars and engineers and talented teachers and doctors, and if you go into the Ukrainian segment of any social network, you will see, every other day, a posting that somebody was killed in the front lines, somebody close. It becomes so mundane that it's numbing.

This is what, basically, the internal Ukrainian discussion is all about: we're bracing ourselves to fight this out, and sometimes cracking jokes about it. The question is, when will the international community actually pay attention to the price being paid? In late autumn, when the Kherson counteroffensive was almost under way, everyone was in anticipation. After it began, everyone was asking, "What is going on there? Where are the results?" And people in the active military were saying, "Go to the nearest cemetery and check the results," because every cemetery has a new portion with fresh grasses and flags standing near the graves. And this is the price we pay.

Sofiya Bidochko '24: I don't think I've lost any hope; I think I've probably gained more of it. Every day of this war is another day with losses of life and suffering and pain inflicted on innocent people. But I think, Okay, this is one less day of war. This is one step closer to the end.

Russia has completely destroyed cities, like Mariupol and Bucha. There is nothing there. There is no sign of life left. If you look at pictures, it looks like what happened after Chernobyl. Utterly empty. It's so sad and painful. I don't think that in my lifetime Ukraine will ever be able to heal itself. My family members who were trapped in a basement as the missile went off, who saw dead bodies as they exited the apartment building—I don't think they can come back to Ukraine, because of PTSD.

I think even if you rebuild, people will not forget, and every day they're reminded of what they say and of what is still happening. It's a really, really sad consequence of something that I just don't think these generations can fully heal from. I really hope that, as much as countries have been supportive in helping Ukraine fight, they're going to be supportive in helping Ukraine rebuild, because for half of the country it truly will be rebuilding from the ground up.