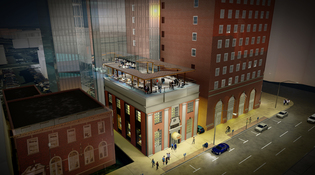 Centerbrook Architects and Planners
Sure, those secret society "tombs" are all very nice. But does Skull and Bones have a boutique hotel, conference center, and health club? (Perhaps they do, but they're not telling.) That's just what alumni of the Whiffenpoofs want to build in New Haven: a headquarters for the senior a cappella singing groups—the Whiffenpoofs and Whim 'n Rhythm—and a "home base" for Yale alumni visiting New Haven.

They're calling it the W2 House. The not-for-profit venture would use a percentage of its surplus to benefit town-gown programs such as arts instruction in local schools.

The alumni group got Centerbrook Architects and Planners to draw up a proposal for renovating a bank building at 209 Church Street, near the New Haven Green, and adding an 11-story hotel tower behind it. Whiffenpoof alumni president John Burke '72 says the alums had an option to buy the building, but they had to pass because the money for the project—estimated at $70 million last March—is not yet in place. Burke says they have $400,000 in cash and pledges so far and hope to move forward, either at the Church Street site or elsewhere in New Haven. Stay tuned for the second verse.