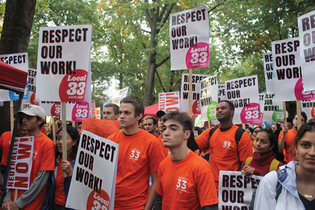 Thomas Breen/New Haven Independent
Backers of a graduate workers' union marched in October. In the election that followed, 91 percent of those voting opted for a union. View full image
For more than 30 years, large numbers of Yale graduate students who work as teaching assistants and research assistants have been seeking union representation. Generations of grad student organizers have struggled at various times against opposition from the Yale administration, indifference or hostility within their own community, and national political obstacles. But in January, the stars finally aligned. When the votes were counted in an election held last fall, Yale's Local 33 won its union. Out of 3,214 teaching and research assistants eligible to vote, 1,860 voted for the union and 179 against.

The vote comes amid a national wave of support for unions in the wake of the COVID-19 pandemic. Besides the successful organizing efforts at employers like Amazon and Starbucks, interest in graduate worker unions has been growing; workers at Harvard, Columbia, Brown, and Northwestern have organized successfully since 2017. "There's a wave of unionization in our country right now, and it's a really empowering movement to be a part of," says Abigail Fields, a PhD candidate in French and a Local 33 organizer. "It's a reminder that everyone can organize in their workplace."

The movement to unionize began in 1987 as grad students sought clarity on pay, teaching requirements, and opportunities for advancement. Thirty-three years later, Local 33 was still lobbying to address a similar slate of issues. In recent years, graduate students' demands have expanded to include better mental health care, leave policies, and dental and vision insurance.

Previous union organizing drives at Yale had difficulty convincing graduate workers in the sciences—where jobs are sometimes structured differently from jobs in the humanities—to join the effort. But the 91 percent "yes" vote in this election (discounting the 1,175 who did not vote) suggests that this time, Local 33 won over a substantial portion of the scientists.

"A really exciting element for me of this campaign is just how many people, how many graduate workers, were down to organize for this and talk to their coworkers," says Fields. "I've personally had hundreds of conversations with coworkers over the course of several months. It's really exciting to know that people went into 'vote union yes' with a clear idea of the stakes."

Despite years of contention with the Yale administration, the most recent campaign and election were surprisingly amicable. In a statement following the announcement of the election results, President Peter Salovey '86PhD sounded a cooperative note. "As we work with the graduate student union," he wrote, "we will continue to be guided by our commitment to Yale's educational and research mission and to the success of all our students. . . . We are fortunate that we can build on the strong relationships we have established with the other unions in the Yale community."

Union activists welcomed the statement. "It was really heartening," says Fields. "It gives me a lot of hope that we're going to be able to negotiate a great contract."
Now that the union has been recognized, the university and union representatives will enter a negotiation stage monitored by the National Labor Relations Board.