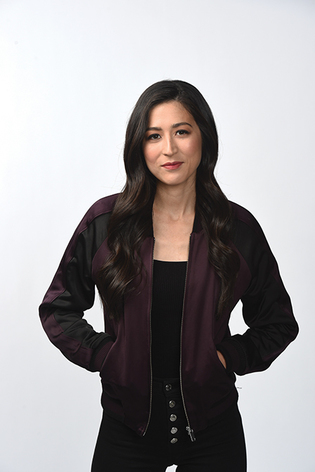 ESPN images
Mina Kimes '07, the first woman to be named an NFL analyst at ESPN, spoke with Evan Frondorf '14, a risk analyst in San Francisco who writes frequently about sports for this magazine. The interview has been condensed and edited for clarity. View full image
Mina Kimes '07 didn't visit the football stadium that often as an undergrad, but now it's her home away from home. She's the first woman to be named an NFL analyst at ESPN and a regular on popular shows such as NFL Live and Around the Horn. Kimes started her career with award-winning stints in business journalism at Fortune and Bloomberg before moving to ESPN in 2014 as a writer—a move spurred by ESPN's interest in a blog she'd written about sharing Seattle Seahawks fandom with her dad. And her lively, outspoken presence on social media has earned her over half a million followers on Twitter.

Evan Frondorf: Starting off with your time at Yale, what was your involvement in journalism, if any?

Mina Kimes: I was an English major, but I wasn't really sure what I wanted to do with that. I was also definitely not set on journalism. I did some writing for the New Journal, a bit of music writing here and there, but no sportswriting. It was more through my internships that I figured out I had an interest in journalism. Between my freshman and sophomore years, I taught—which I was awful at. Between my sophomore and junior years, I did book publishing, which I was awful at. And then between my junior and senior years, I interned at a magazine called Fortune Small Business. I actually enjoyed that a lot, and that ended up being where I worked out of college.

EF: In recent years, you've moved from a writing role at ESPN to a more permanent on-air role. What does that transition from print to TV look like?

MK: It looks like a lot more makeup and hair product. That's the real answer [laughs]. But actually, when I was a business journalist, I occasionally did some audio. In 2016, I started doing more radio, and that's how a lot of folks in TV at ESPN get their start—doing radio and podcasts, and getting a feel for being an opinionator and an analyst rather than reporting.

EF: How do you prepare for a taping of NFL Live?

MK: It really depends on what time of year it is. During football season, it's a different process. On Sundays, you're watching games. But even the rest of the week, you're watching games you may have not seen in
their entirety on Sunday, or rewatching games at times. On the morning of a show, the producers will call us and talk through our thoughts on the topics we've agreed will be on the show. Then we'll have a pre-show meeting where we talk through everyone's respective opinions.

EF: You're one of a growing number of women to hold an NFL analyst position. What's your view on gender equity in sports media today?

MK: There's a growing number of women in a variety of roles, but as far as analysts go, that's still pretty scarce. I want to sound optimistic and say that things are really changing, but the reality is that the pace of change is quite slow. That said, I was not on TV five years ago, and even five years ago, if you'd turned on some of the shows that I'm on now, there were no women in non-host roles.

EF: Last year, you made an appearance on the celebrity version of Who Wants to Be a Millionaire, providing the right answer to the million-dollar question as the Phone-a-Friend. As a result, $1 million was donated to hospitality workers affected by the pandemic. How did that come about?

MK: I've been friends with [restaurateur] David Chang, the contestant on the show, for a few years through Korean Asian circles. David reached out a couple weeks before and asked if I would do it, and I didn't really understand what that entailed. Turns out it's just sitting around and waiting for a phone call. I was really hoping they wouldn't call me, because a lot of time had elapsed, and so by the time they did call me, I had a suspicion it was going to be for a lot of money.

EF: Any thoughts about Yale football alumni in the NFL?

MK: The defensive coordinator for the Giants, Patrick Graham ['01], had a really nice season, and I didn't know he was a Yale guy. And Mike McDaniel ['05] is now the offensive coordinator with the Niners. That's two of the best coordinators in football, and I thought that was pretty exciting. And Foye [Oluokun '18] has been really good, really surprising as a player.