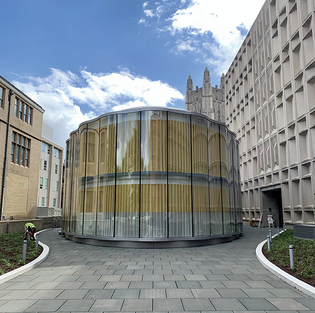 Mark Alden Branch '86

"The idea was to take this barren plaza and to create a new landscape, locating a transparent glass lantern at its center," says architect Marion Weiss '83MArch, who, along with partner Michael Manfredi and their firm Weiss/Manfredi, designed the recently completed new home for the Tsai Center for Innovative Thinking at Yale (Tsai CITY), next to Becton Center.

"We were excited about transforming the back side of a century of different eras of architecture"—SSS, Dunham Lab, Becton, and more—"into a central destination for convening creative thinking," adds Weiss. Launched in 2017 with a gift from Joseph Tsai '86, '90JD, Tsai CITY's mission is "to inspire students from diverse backgrounds and disciplines to seek innovative ways to solve real-world problems."
Due to COVID restrictions, only staff members are currently working in the building, though the spaces are ready for students whenever they're allowed in. "We envisioned a 24/7 place to hang out informally or formally," says Manfredi, "a place where everybody would know that there is incredible energy and innovation happening. At night, it glows." But for now, students have to stay on the outside, looking in.