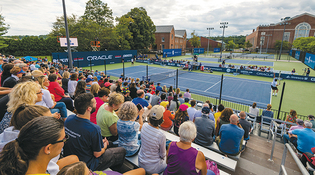 Noel Vasquez
Samantha Martinelli '21 was one of the Yale varsity tennis players who competed in the Oracle Challenger Series at Yale in September. View full image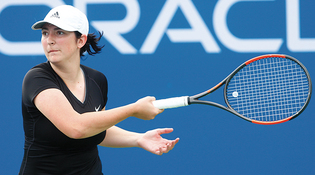 Jared Wickerham
Samantha Martinelli '21 was one of the Yale varsity tennis players who competed in the Oracle Challenger Series at Yale in September. View full image
As anyone who follows tennis knows, there is widespread concern that the United States doesn't produce world-class players the way it once did. No American man has won a Grand Slam event since 2003, and while American women have continued to dominate, they have won only three majors in the last four years. A new series of tournaments for emerging talent, known as the Oracle Challenger Series, aims to reverse this decline. Yale played host to one of them in September, and several Eli tennis players got to take part.
For tennis fans, the tournament provides some consolation for the loss of the Connecticut Open—a professional tournament that took place at Yale and the Connecticut Tennis Center every summer from 1990 through 2018. Under various names and sponsorships, the Open had featured talent as major as Venus Williams, Andre Agassi, and Maria Sharapova over the years. But it was sold and moved to China this year after a failed search for a title sponsor.
The Oracle Challenger Series features players at the other end of the talent pipeline. It was created by Oracle Corporation, a computer technology company whose founder, Larry Ellison, and CEO, Mark Hurd, are avid tennis supporters. Classified as events in the World Tennis Association's 125K Series and ATP's Challenger Tour, the tournaments often pay out more than $20,000 each to the men's and women's singles winners. Participants earn points to qualify for the BNP Paribas Open, a major tournament owned by Ellison.
Five members of Yale's varsity tennis teams won entrance to the tournament. Samantha Martinelli '21, a two-time Ivy League First Team selection, learned on her way back from a study-abroad trip to Paris that she had earned a spot. "I was kind of out of practice—I hadn't really been playing that much when my coach called me," Martinelli says, laughing. "When I got home from Paris, I just called my friends and basically trained for two weeks solid just to try and get back in shape."
On Labor Day, when many students were enjoying a final taste of summer, Martinelli and the other four Bulldog players headed out to the Yale Tennis Center as if it were any ordinary day of practice. But they arrived to a very different atmosphere. "There were fans, bleachers, and ball kids," says Dylan King '20, a participant. "Having that experience of a real professional tournament on our home court was really different."
Martinelli played valiantly and won her first set before falling to former NCAA champion Jamie Loeb. "This was a situation where she had everything to lose, and I had everything to gain. It definitely took a lot of the pressure off me, which allowed me to play pretty loose in the first set," says Martinelli. "But, as the match kept going, the nerves definitely caught up with me."
King also started hot before eventually dropping his match to another NCAA champion in a stacked field. "To be able to test my skills in a professional setting was a good way to measure myself against the upper echelons of the college world," he says.
Wins and losses aside, the important thing is that the tennis tradition continues in New Haven. Says King: "The strong presence in New Haven every single year is a testament to how much the city cares about tennis."