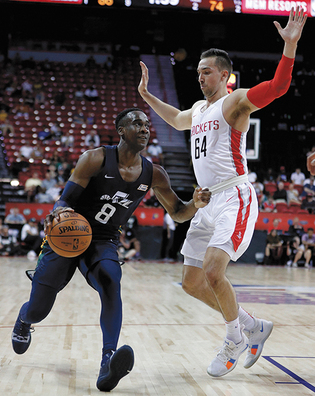 AP Photo/John Locher
Miye Oni '20 (left) drives into Zach Thomas of the Houston Rockets in an NBA Summer League game in Las Vegas in July. View full image
As June's NBA draft continued past midnight on the East Coast, it appeared time might be running out for Miye Oni '20, the Ivy League Player of the Year and Yale's best professional prospect in decades. Just three picks remained. Then, NBA deputy commissioner Mark Tatum took the stage at the Barclays Center in Brooklyn to speak those magic, life-changing words: "With the 58th pick in the 2019 NBA draft, the Golden State Warriors select Miye Oni, from Yale University."
Immediately after the pick, the Warriors traded Oni to the Utah Jazz, in one of many draft-night trades, but that was merely a footnote to history. Oni had just become Yale's first NBA draft pick since Chris Dudley '87 was drafted in the fourth round; the first Ivy Leaguer chosen since 1995; and Yale's highest selection since 1949, when Tony Lavelli '49 was taken as the fourth overall pick before the NBA's first official season. (The draft was shortened to just two rounds in 1989.)
"It was just glorious," says Yale head coach James Jones, who signed an extension this summer to remain Yale's coach through 2026. "It kind of felt like I was selected." It was also the culmination of an improbable journey for Oni, who did not make his high school varsity basketball team until junior year and initially only fielded offers from Division III schools.
In the weeks after the draft, Oni played for the Utah Jazz in the NBA's Summer League in Las Vegas, a preseason opportunity for new draftees and other hopefuls to make an impression and sign NBA contracts. There, as Jones remarks, "he certainly looked like he belongs." Oni said his favorite Summer League moment was a crucial block of the Portland Trailblazer's top draft pick as he drove to the basket: Oni succeeded in denying Portland a game-tying basket with under 10 seconds to play.
In the Vegas games, says the L.A. native, he was able to play a more fluid game than in Ivy basketball. "There's been a lot of space to drive and make the right passes, and it's been fun," he said, after his final Summer League game. "It's been really beneficial for me, and I feel like I've gotten a lot better."
After two weeks of preseason games, Oni had clearly made his impression, particularly in defense. In mid-July, he signed a three-year standard contract with the Jazz, earning one of the coveted final spots on an NBA roster (as opposed to a so-called two-way deal, in which a player is expected to spend most of his time playing in a developmental league). "Miye wants to make the most of it," Jones says. "He doesn't want to be a flash-in-the-pan kind of guy. He wants to have a long career in the NBA, and he's going to do all he can to stick and stay."
Starting in October, Oni will wear number 24 for the Jazz in Salt Lake City. (He'll still likely spend some time playing in the G-League, the NBA's developmental minor league.) He's also developed a "concrete plan" with Yale to finish his BA in political science.
Wherever he lands, it'll be an unusual senior year, but hopefully the beginning of a great career. "One of the things about Yale is that, whatever you want to become, you can," says Jones. "And now, that's for certain."