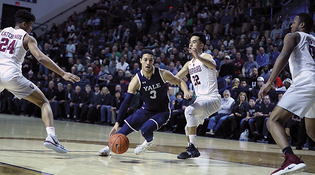 David Silverman
Alex Copeland '19 helped lead the Bulldogs to the Ivy championship in the tournament finals against Harvard. View full image
The pieces all came together for men's basketball this winter. Inside their own John J. Lee Amphitheater, the Bulldogs cut down the nets on March 17 to celebrate their first Ivy League Tournament title, followed by their second NCAA Tournament appearance in four seasons.
The success was gratifying after two years of near misses. After their NCAA Tournament win over Baylor in 2016, the Bulldogs were expected to build on that triumph with the help of rising star Makai Mason '18. But Mason was beset by foot injuries, and Yale came up short in the first two editions of the Ivy Tournament.
But the team was developing more tournament-quality talent, as this season eventually proved. A 10–4 Ivy finish in the regular season, led by Miye Oni '20 and Alex Copeland '19, won the Bulldogs a share of the Ivy title (along with Harvard). Copeland was a first-team all-Ivy selection, and Oni won Ivy League Player of the Year.
Happily for Yale, the postseason Ivy Tournament, which had been held for its first two years at Penn's Palestra, came to Yale's home court this year. (It will now rotate annually among all the Ivy gyms.) Yale beat its ancient rivals, Princeton and Harvard, in two hotly contested games in front of an Eli-friendly crowd, and the Bulldogs won the tourney crown and the NCAA Tournament bid. "I have vivid memories of being on the bus leaving March Madness [in 2016] and saying, 'Okay, I gotta try and get back here before I graduate," said Copeland in a postseason press conference. "When you have a dream combined with a blueprint of how to do it, you can try and do something really special."
Later that week in Jacksonville, the Bulldogs took on LSU, as the 14th seed in the first round of the NCAA Tournament. The Tigers got out to a hot start and led 45–29 at the end of the first half. But the final 20 minutes were reminiscent of Yale's near-comeback versus Duke in 2016. The Bulldogs slowly clawed into the 16-point margin, and, at 30 seconds left to play, they were down just five points. But the limited time remaining gave Yale no choice but to start sending LSU to the foul line. LSU made nine of ten free throws in the final seconds—securing a 79–74 win and preventing the near upset. Copeland finished with a game-high 24 points. "I'm so proud of this group and just the fight that we showed," said the senior, after his final collegiate game. "To come out and battle back like that . . . feels amazing."
And, after all the ups and downs, don't forget Mason, who transferred to the team he upset three years ago—Baylor—to play as a graduate student. After nearly two years away from basketball, Mason became Baylor's leading scorer and a second-team All-Big-12 selection. His Bears made it to the second round of the NCAA Tournament.
Oni declared for the NBA draft in April, and Mason, too, will likely feature in this year's draft discussions. To have two Bulldog pro prospects might once have been unlikely—but the idea is no longer shocking. Yale's program continues to prove itself worthy of attention.