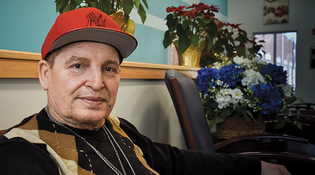 Mark Zurolo '01MFA
Luis Rivera is a resident of Connecticut's only skilled-nursing center solely for people with HIV/AIDS. He's also an uninhibited Motown singer. View full image
Dressed in a bright sequined shirt and swaying in front of the mic, Luis Rivera lets out a caterwauling "Yow!" that would put the Contours to shame. He's a resident at Leeway—a nursing home for people with HIV and AIDS—and the opener of their Motown appreciation concert.
In a little under an hour, Rivera and 11 other performers sing and dance their way through ten songs. Fifty-odd people—fellow residents, staff, and family members—sit watching. A peaked skylight spills sunshine onto the performers; later, everyone will line up for cake. It's a day of celebration. All staff and residents are receiving awards: pins displaying the number of years they've either worked at or lived at Leeway. Delores Jackson, a certified nurse assistant who's worked at the home for 23 years, is called first.
Leeway was started in 1995 by Catherine Kennedy '86MPPM, the late wife of Yale professor Paul Kennedy. Though she died three years later, Kennedy's presence is still felt everywhere. In 2018, Leeway announced the opening of the new Catherine Kennedy Memorial Garden. Heather Aaron '85MPH—former executive director and now an adviser to the board—references Kennedy in a speech she makes to the residents. (Jay Katz started as the executive director in October.) Later, when Aaron and I sit down for a conversation, she mentions that Kennedy worked for 13 years on Leeway before it became a brick-and-mortar foundation.
Almost all the residents at Leeway were previously homeless. Many of them suffer from additional complications that can make managing HIV more difficult. In 2017, the vast majority of Leeway's $6.5 million in revenue came from Medicaid; around three percent came from Medicare, donations, and grants.
Residents tend to filter through Leeway's three-step housing program: most are very sick when they join Leeway, and they go straight into the skilled nursing unit. As they begin to improve, they graduate to residential supportive care, where they practice living on their own but are helped with managing their medication. Finally, they move to one of the 41 units of independent housing.
In the early years of Leeway, an HIV diagnosis meant only one thing. "For the first six months, [Leeway] was basically just a hospice," says Aaron. "You were dropped off here to die with dignity."
But with the advent of antiretroviral therapy, people started to live longer. Now, Leeway serves 101 residents—some temporarily, for short-term rehab, but others for long-term care. The organization employs around 80 people, with medical professionals on staff. Leeway is the only skilled-nursing center in Connecticut dedicated solely to HIV/AIDS patients.
Leeway is, first and foremost, a medical facility. The nursing station is always staffed, everything is sterile, and the hallways are wide enough to accommodate gurneys. But to Aaron, it's important that Leeway feel more like a comfortable warm home than a nursing home.
When Aaron began as executive director in 2010, 13 or 14 residents died each year. Now, that number has dropped to one or two deaths annually. Aaron believes that the decreased mortality rate is due not only to improvements in medications, but also to Leeway's holistic care model. "These individuals who are living here have multiple talents which have been repressed, because the care [was previously] just focused on the disease," she says. Now, residents at Leeway have cooking groups, music therapy, arts nights, and, yes, even Motown appreciation performances.
There are 10,560 people living with HIV in Connecticut. As of 2017, more than 1,000 of them were based in New Haven. And while overall infection rates may be dropping, there's a huge disparity in whom the disease infects. Only 28 percent of Connecticut residents identify as black or Hispanic, but they account for 69 percent of new diagnoses.
Jay Katz, the new executive director, says he'll work to expand the Leeway model across Connecticut—and eventually the country. He expects it will take time and support from the health-care community, and in that time frame, he's hoping there will be a cure. "It would be great," he says, "if there was no longer a need for Leeway."