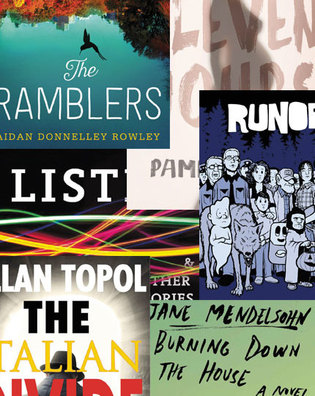 Eleven Hours
Pamela Erens '85
Tin House Books, $15.95
When Lore Tannenbaum—31 years old and no longer engaged—arrives at the hospital alone and in labor, the first thing she tells Franckline, the pregnant nurse assigned to help her, is that her birth plan rules out a fetal monitor. "'These girls with their birth plans,' thinks Franckline, 'as if much of anything about a birth can be planned.'" This mesmerizing novel tracks every contraction, and recounts every turning point in the life of each woman, as a difficult labor reaches a harrowing conclusion.
The Italian Divide: A Craig Page Thriller
Allan Topol '65JD
SelectBooks, $16.95
Overdue loans to dubious Italian politicians. Russian hitmen. A former CIA director, now a race car driver. Intrigue. Murder. Add these up and you get a fast-paced page-turner perfect for beach and cabin reading, as superspy Craig Page puts aside retirement to return to international action—hoping to avenge a friend's killing and thwart the evil intentions of his archenemy, Chinese treasury minister Zhou Yun.
Listen and Other Stories
Liam Callanan '90
Four Way Books, $17.95
"My father spent a good portion of his career with a tape deck slung over his shoulder," says the narrator in the title tale of this diverse and satisfying collection of stories. "Listen" revolves around the narrator's father, a sound engineer, and a recording made of the narrator's mother before she died—in which she releases an "eerie, penetrating tear" of a scream. Within this haunting sound, one could find, writes Callanan, "the DNA of that world's entire moment." It's an apt description of Callanan's own skill, which he displays in stories about death, love, loneliness, and, ultimately, the human condition.
Burning Down the House: A Novel
Jane Mendelsohn '87
Alfred A. Knopf, $26.95
At age ten, a Russian girl named Neva is sold into sex slavery. She eventually escapes and, in her twenties, winds up as a nanny to twin boys in the New York City household of wealthy and powerful real estate magnate Steve Zane. Zane's family is a cauldron of psychosis and Machiavellian ambition, and his empire is about to be infected by human trafficking—an infection that Neva has to stop. "It begins with a child," writes Mendelsohn in this riveting novel. But it doesn't end with one.
Runoff
Tom Manning '08MFA
One Peace Books, $24.95
If you missed the cult-classic comic book series Runoff, which ran from 2000 to 2007, here's your chance to drink in, under one cover, the entire remarkable adventure that took place in the fictional town of Range, Washington. It begins when one day, suddenly, "people can come in . . . but no one, no one, can seem to get out." The truth, of course, is out there. Manning's stark black-and-white drawings, in a style he calls Gothic American Surrealism, shape a compelling graphic novel that combines elements of Psycho, Stephen King, Twin Peaks, and, oddly enough, Lake Wobegon.
The Ramblers: A Novel
Aidan Donnelley Rowley '00
William Morrow/HarperCollins, $25.99
Every summer reading collection needs a satisfying tale of romance. When bird-watching guide Clio Marsh shepherds New Yorkers on guided tours of the Ramble, a legendary birding hot spot in Central Park, you have the feeling that such a "sojourn can lead to love." Given that birds, to say nothing of their observers, have a tendency to fly away, nothing will be easy in this story of relationships in the city. But maybe the migrants will, sooner or later, return home to nest.