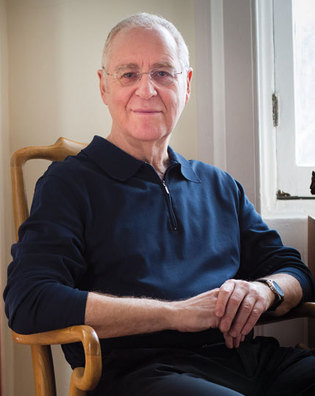 Julie Brown
Ron Chernow '70, Pulizer Prize-winning historian, confesses: he only took one history class at Yale. View full image
Ron Chernow '70 is known for injecting drama into history, winning legions of readers (and a Pulitzer Prize) for his biographies of giants like J. P. Morgan and George Washington. Now, he's injecting history into drama. His 2005 biography of Alexander Hamilton was the inspiration for Hamilton—the reigning Broadway blockbuster by Lin-Manuel Miranda, which filters the American Revolution through hip-hop culture. It's given Chernow an unexpected life in the theater, even as he prepares to publish his next historical tome.

Y: Hamilton has made the Founding Fathers incredibly cool.

C: It seems to have created a tremendous reawakening of interest in American history. Very often, people will come up to me in the theater, and they'll say rather sheepishly, "You know, Ron, I was embarrassed to realize how little I knew about the history of my own country. And I'm determined to change that!"

Y: I'm in that camp. The musical made me do the reading I was supposed to do in high school.

C: I remember, years back, doing an interview with Gore Vidal—and he said that American history was so short, but so colorful and dramatic, that you had to work very hard to make it dull. And unfortunately, many of our schools, I've found, have done just that. So many people discover a love of history when they're out of school. Maybe they pick up a work of popular history or biography. And maybe they've gotten tickets to Hamilton.

Y: Even you, a professional historian, came to the subject after you graduated.

C: This is a rather embarrassing admission—that I managed to sneak through Yale College without taking history classes! Well, I actually took one history class. It was in Irish history, and the reason I took that is because I was majoring in English, and I wanted to catch all the historical references in James Joyce.

Y: Did your English classes affect your work as a historian?

C: People say the books have a literary flavor, and that comes out of the fact that I have two degrees in English literature. I thought I was heading for a career as a novelist, so I spent years thinking about elements of narrative—of pace and portraiture and point of view—never dreaming that they would be rolled over into this experience as a biographer and historian.

Y: And now you're essentially taking a hands-on course in musical theater.

C: I decided to have every experience one could have. Two or three weeks ago, the musical director allowed me to sit with the orchestra under the stage. It was an indescribable thrill to hear the distant laughter and cheers of the audience, to hear the dancers overhead, and then watch the musicians create all the textures and colors in the orchestration. The next thing I'd like to do is have the experience of standing in the wings as the actors are coming on- and offstage. I'm assuming this is my last show, so I'm trying to pack in as much as I possibly can.

Y: Hey now! It might not be your last show. You're working on a biography of Ulysses S. Grant. What if he's the next great musical theater icon?

C: Well, I don't think that Grant moves to a hip-hop beat. And I noticed that Lin-Manuel Miranda has not asked to see the Grant manuscript. Need I say more?