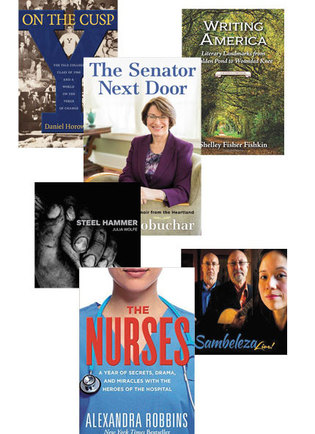 Steel Hammer
Julia Wolfe '86MusM
Cantaloupe Music, $15; $10 downloaded at www.cantaloupemusic.com
They say of great actors that people would pay to hear them read the phone book. Well, a composer like Julia Wolfe—the 2015 Pulitzer winner—can raise chills by intermingling the names of Appalachian states with the title of the old folk tune "Yew Pine Mountain." Steel Hammer, performed by Bang on a Can All-Stars (an ensemble Wolfe cofounded) and Trio Mediaeval, brings new-music sensibilities to old folk traditions—specifically the story-song "John Henry," which Wolfe deconstructs, reconfigures, and revisits from a variety of modern angles. Sparse and forthright, Steel Hammer welds a propulsive, percussive pace to some creative intellectual folkloric exercises.


The Senator Next Door: A Memoir from the Heartland
Amy Klobuchar '82
Henry Holt, $30
In a heartfelt account, Minnesota's senior senator, first elected in 2006, describes her path to Capitol Hill—an often bumpy road that began with her being sent home from elementary school for wearing pants. She takes us through her time at Yale—where she studied politics with Robert Dahl, Joe Lieberman, and Ted Marmor—and also tells us about the variety of state and federal offices she has held. Through it all, Klobuchar has tried to channel Hubert Humphrey, "the Happy Warrior": she works to be "an optimist with joy" and believes in reaching across party lines to work with "someone you don't always agree with for the betterment of this country."

Sambeleza Live!
Quadrangle Music, $18; www.sambeleza.com
Sambeleza is a trio consisting of young pianist/vocalist Isabella Mendes (whose day job is assistant director of academic affairs and student life at the Yale School of Management), guitarist Joe Carter (who teaches at Sacred Heart University), and the respected New Haven–based jazz bassist/bandleader Jeff Fuller '67. Recorded at the 2014 Summer Solstice festival in Connecticut, Sambeleza Live! makes up for its lack of studio slickness with a frisky spontaneous energy that's bolstered by the audible whooping of the audience. The 12-song set consists mostly of tunes by Brazilian jazz/samba icons, but there's also a soaring Isabella Mendes original, "Blame Destiny," that makes you feel the Brazilian breeze and start swaying.


The Nurses: A Year of Secrets, Drama, and Miracles with the Heroes of the Hospital
Alexandra Robbins '98
Workman, $24.95
"Nursing is among the most important professions in the world," writes Robbins, and in characteristic fashion, she drills down into this typically unheralded health-care subculture to follow four real-life (but unidentified) ER nurses, watching them work through a bewildering array of challenges at four representative hospitals. The result is a moving and revealing look at how the country's 3.5 million members of this "secret club" navigate their profession daily.


On the Cusp: The Yale College Class of 1960 and a World on the Verge of Change
Daniel Horowitz '60
University of Massachusetts Press, $24.95
An Associated Press story on Yale College's 1960 graduating class assessed the men this way: "No Heroes, No Causes, No Crusades." But historian Horowitz—a Jewish New Havener whose father William '29 became the first non-Protestant trustee of Yale—has written a book of greater insight. Through both personal memoir and extensive interviews with his classmates, he shows that the so-called "Silent Generation" was already making its share of political and cultural noise and beginning to pave the way into the Sixties.


Writing America: Literary Landmarks from Walden Pond to Wounded Knee
Shelley Fisher Fishkin '71, '77PhD
Rutgers University Press, $34.95
The novelist E. L. Doctorow suggested that literature "endows places with meaning." But some places are more meaningful than others, and in this splendid travel guide for readers, Stanford English professor Fishkin, who once served on the Yale faculty, presents a number of standouts—from Thoreau's waterfront writing cottage to Hollywood Boulevard—to explore how these places "shaped the lives and the art of authors who had a major impact" on the history of American writing.