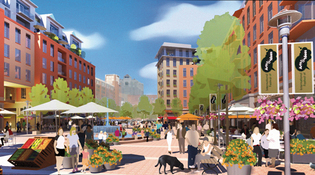 Courtesy Newman Architects
An architect's rendering of the public square planned for the center of the Coliseum site development. This view looks north, toward the intersection of Orange and George. View full image
The New Haven Veterans Memorial Coliseum drew its last crowd eight years ago, on the cold Saturday morning in January when people gathered to watch its demolition. Since that day the site has been idle, filled only by a parking lot. Now a developer is getting ready to build.
The defunct Coliseum, built in 1972, exacerbated the problems caused by New Haven's 1950s urban renewal plan—infamous today as an example of misguided city planning. With the construction of the Oak Street Connector (the notorious "highway to nowhere"), the plan broke up New Haven's downtown with vast stretches of asphalt, isolating neighborhoods that were once part of a pedestrian-friendly urban ecosystem. The forbidding scale of the Coliseum and its parking garage alongside the connector only made things worse.
Today, city and state officials, along with a private developer, have a master plan to stitch downtown back together. The highway is being replaced by new buildings, reconnecting downtown with the medical center. As for the Coliseum site, the plan is to fill its 4.5 acres with a $400 million multi-use development that will attract pedestrians. Plans include up to 35 retail stores and restaurants, a four-star hotel, about 1,000 housing units (a fifth of which must be designated "affordable"), and, eventually, 250,000 square feet of office space. The project will center on a public square and a walkway lined with shops.
"There's still a lot of damage to be undone," says Matthew Nemerson '81MBA, the city's economic development administrator. "Getting rid of the highway was a very important part," but the work won't be finished "until we have created a community and functioning city."
The city chose the developer Live Work Learn Play (LWLP) in 2011, and in December 2013 the City of New Haven, with approval of the Board of Alders, signed a development agreement. It wasn't a slam dunk; because of the deep recession, LWLP hesitated when New Haven–based architects first asked it for a bid, says Max Reim, the firm's co–managing partner. But then new "catalytic" apartment buildings and other developments, such as Gateway Community College, started going up in the city. Moreover, adds Reim, New Haven has Yale: "Most cities kill themselves to get hospitals and educational institutions." And he considers the location ideal for mixed-use development. "People can live on top of where they can work and socialize. And they will have gathering spots," such as the public square. "It's one thing that's very sorely missing in New Haven."
Construction will begin as early as this summer, with the project proceeding in phases. Along with everything else, officials are looking forward to the many construction jobs and permanent jobs projected for the site.