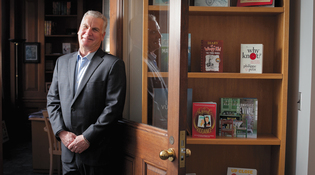 Julie Brown
When Michael Jacobs, a history major in Timothy Dwight College, needs an extension on his final paper, it's because the holiday book season gets busy for the CEO of a New York publishing company. Jacobs, 61, has run Abrams for the last nine years; before that, he was responsible for American marketing of the first five Harry Potter books at Scholastic. One or two days a week, he commutes to New Haven for classes as part of the Eli Whitney Students Program for nontraditional students. Jacobs teaches in the Yale Publishing Course and will be giving the keynote address this summer.
Y: What made you decide to earn your degree now?
J: When I dropped out of college [in the 1970s], I thought, well, I'll take just a semester off to get my head together, as we used to say—and, you know, life intruded and I sort of fell into the book business. Six or seven years ago I wrote down the things that I wanted to try to focus on in my life. Getting a college degree kept creeping up the list. I felt like, if not now, when? I still have some energy and I have a bit of cognition left and wanted to do it while I still have those things.
Y: How much further do you have to go?
J: I'm a junior now. I have about 15 or 16 credits to go. I'm hoping to finish in 2015, if not in 2014. My daughter is a sophomore at Vassar, and it would be nice if we both graduated at the same time.
Y: How do younger classmates react?
J: I think some of them look and say, "Gosh, he's older than my father.' The clever ones, when they get to be juniors, talk to me about getting a job. I do a lot of things anybody else does. I meet people in coffee shops. I eat in my dining hall. I participate in some aspects to the social life, although I don't live there.
Y: How did your boss react?
J: It would have been harder if the company was in the toilet. When you're doing well it's easier.
Y: What do you plan to talk about at the Yale Publishing Course?
J: I always go through my story about how I got into publishing and then how the company I run, which I've been at almost ten years, was kind of a turnaround story. Publishing has been changing, but there are a lot of opportunities for excitement and transformation.
Y: How did the turnaround happen?
J: Abrams is a pretty well-known brand in art and photography—what we used to call coffee-table books. While we still do that, that market had gotten more difficult, so just before I arrived Abrams had launched the children's publishing program—not just illustrated books but also fiction. I put a lot of energy into growing that business, and we got lucky and struck it rich with the books that we signed right after I got here [the Diary of a Wimpy Kid series, which has sold 85 million copies in 42 languages around the world].
Y: You don't need any credentials at this point in your career, but is there a way in which you're thinking of how you will use your degree?
J: I don't know, if I had another career, what it would be. When you're in your 50s, you think, everything I could possibly learn I know already. But this makes me stretch in a way that I really appreciate. It's given me another dimension to my life.