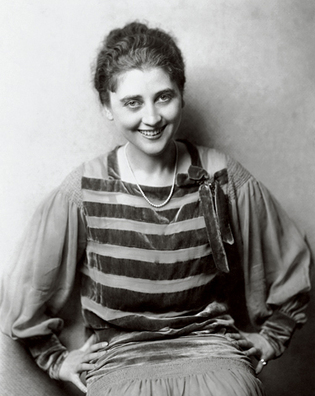 Condé Nast Archive/Corbis
Maurine Watkins's "demure, old-fashioned air" helped her get a job at the Chicago Tribune. At Yale, she parlayed her reporting experience into the play Chicago, which was remade several times, including as a 2002 Academy Award-winning movie. View full image
In 1925, Yale opened the first graduate department of drama in the United States, and it didn't take long for the program to bear fruit: within a year, a play written by a student in the inaugural class went to Broadway and was hailed by the New York Times as "one of the most stirring plays of the season." Remade as a Broadway musical and more than one movie, the story continues to captivate audiences to this day.
The show was Chicago, and its author was Maurine Watkins '27Dra, the precocious only child of a minister and a teacher from Louisville, Kentucky. Described in her high school yearbook as the "prettiest girl in the senior class," Watkins was also the smartest, graduating first in her class. After attending Radcliffe College, Watkins parlayed her subsequent experience as a reporter for the Chicago Tribune into a play the Times called a "raucous lampoon" that tells the "tawdry story" of why no beautiful women "need quail before justice."
How Watkins, a woman with no professional journalism experience, got hired at the Tribune is unclear. A 1997 Tribune article by Louise Kiernan suggests the city editor was charmed by her "demure, old-fashioned air," which he predicted would "win the confidence of those who might mistrust the coarser sort of reporter." Watkins was hired to write about crime from a "feminine" perspective.
The new boss's instinct was right. Watkins passed herself off as a mourner at the funeral of Bobby Franks, the victim in the infamous Leopold and Loeb murder case, and then landed an interview with the killers just before they confessed.
But it was while covering the 1924 murder trials of two women, Beulah Annan and Belva Gaertner, both accused of killing their lovers, that Watkins found her voice as a writer. As Kiernan describes it, "She detailed their powdered complexions and patent-leather slippers, their unscrupulous lawyers and duped juries with an elegant, skewering wit."
In one story, Watkins described a defendant as "a woman whose pursuit of wine, men, and jazz music was interrupted by her glibness with the trigger finger." Of her time on the Chicago crime beat, she had this to say: "It was just a grand and gorgeous show. Things being what they are, I don't see why the state doesn't charge admission to trials and lighten the taxes."
After six months, Watkins left the newspaper to enroll in Yale's new drama department (which, in 1955, became the School of Drama). There she was reunited with George Pierce Baker, a Harvard professor who had taught her at Radcliffe. As the program's first director, Baker presided over a department with 62 students—29 of whom were women.
In Baker's "47 Workshop," a prestigious playwriting class he transplanted from Harvard, Watkins used her Chicago experiences to write a play called A Brave Little Woman, which the Yale Daily News called "a modern satirical comedy." Baker gave Watkins's work a near-perfect grade of 98, calling it "extremely clever and original." However, it was deemed too controversial to be staged at Yale. Instead, the play, renamed Chicago, opened at New Haven's Shubert Theater before premiering in New York City on December 30, 1926. The Chicago Daily Tribune described Watkins's play as a "satirical comedy depicting the methods of shrewd Cook County lawyers to change heartless but beautiful feminine murderers into heroines." In its review, the New York Times wrote, "Miss Watkins has spread the whole tawdry story through her comedy in racy dialogue and ludicrous situations."
Shortly after Chicago's success, Baker wrote to Watkins: "Now, don't let an immediate success . . . carry you off your feet. You wrote a play with commendable purpose. . . . You wrote something that might have an effect on the conditions you ridicule."
The play never served as the engine for reform Watkins may have desired, but it certainly has had staying power. Over the decades, its many iterations have included a 1927 Cecil B. DeMille–produced silent movie; a 1942 film called Roxie Hart, starring Ginger Rogers; a 1975 Bob Fosse–choreographed Broadway musical; a 1996 Broadway revival; and a 2002 Academy Award–winning movie starring Renée Zellweger and Catherine Zeta-Jones.
Watkins went on to write about 20 more plays. Nothing touched the triumph of Chicago, but she had some success in Hollywood as a screenwriter, cowriting the prison movie Up the River, which featured Spencer Tracy and Humphrey Bogart, as well as Libeled Lady, starring Tracy and Jean Harlow.
In her later years, Watkins developed a disfiguring facial cancer and left her apartment only with her face heavily veiled. A devout Christian, she resisted all efforts to buy the rights to Chicago for a Broadway musical. It is believed she came to regret the role her stories may have played in enabling murderers to escape justice. She died of lung cancer in 1969 and left her fortune to support the study of classical and biblical Greek at many universities. After her death, her estate sold the rights to her play to Bob Fosse.
Though best known for her highly entertaining confection Chicago, Watkins never lost sight of the darker themes her work sought to dramatize. When John C. Archer '14BDiv, '22PhD, a Yale Divinity School professor, condemned Chicago as "too vile to be put before the public," she took umbrage: "What surprises me is that he of all persons, a divinity school professor, should condemn the action of calling attention to evil. . . . More than likely, he speaks of evil conditions himself. I do the same thing, only the stage enables me to make it more realistic."