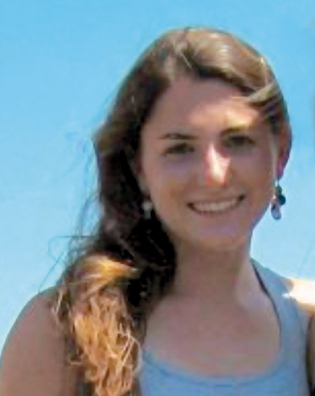 Facebook photo
Michele Dufault '11 died in a lathe accident in April, just weeks before here graduation. View full image
The lathe that killed Yale student Michele Dufault '11 last April, which had no guards and no emergency stop button, would not pass muster under the university's strict new safety rules. And the shop where Dufault died alone—which, under the new rules, is deemed one of the most hazardous on campus—is no longer accessible to undergraduates without a faculty or staff supervisor.
Those are two of the most significant changes under the new safety standards, which Yale put in place this summer in the wake of Dufault's death. The 22-year-old physics and astronomy major from Scituate, Massachusetts, was asphyxiated after her hair caught in a lathe in a Sterling Chemistry Laboratory machine shop, where she was working by herself in violation of the existing safety rules.
In response, Yale conducted a sweeping safety review of student tool shops. In addition to tightening shop access, the university replaced dozens of large power tools—including the lathe that killed Dufault—and upgraded scores of other tools.
Dufault went to the machine shop on the evening of April 12 to work on her senior project. Around 2:30 a.m. on April 13, other students entered the shop and found lights on and music playing. They discovered Dufault with her ponytail caught in a rotating part of the lathe, her body "compressed against the machine," in the words of Robert Kowalski, area director for the federal Occupational Safety and Health Administration (OSHA).
The 77-page file from OSHA's investigation of the incident, released to the Yale Alumni Magazine under the Freedom of Information Act, includes an extensive narrative based on a physical inspection, interviews, and other research. In a letter to Yale, Kowalski cites hazards he considers violations of federal or industry safety standards. The rules have changed over the years—becoming stricter in some cases and laxer in others—so compliance with industry standards in the case of an older machine like the lathe can be a matter of interpretation. Yale contends that the machine shop complied with all standards. (Because Dufault was not an employee, OSHA lacks jurisdiction to issue citations.)
Yale's new rules divide the 28 facilities where undergraduates have access to power tools into five categories based on hazard level, taking "the existing best practices from several shops" and applying them across the board, says Steven Girvin, a deputy provost and physicist who led the review.
"The most significant aspect of the new rules is their uniformity and applicability to every shop," Girvin wrote in an e-mail. "Many shops have additional rules that are specific to their operations."
The changes address two "what-ifs" raised by the investigation: could Dufault have survived if the lathe had had an emergency shutoff? Or if she hadn't been working alone? The 49-year-old lathe Dufault was using is nearly seven feet long, and had an off button 15 inches from one end—four to five feet from where she was working when the accident happened, according to a safety consultant's report commissioned by Yale and included in the OSHA file. (The lathe could also be shut off with a lever, a Yale spokesman says. But that lever was still farther away.) Some newer lathes have larger, more centrally located emergency stop buttons, Kowalski says. Whether Yale was required to retrofit its lathe with emergency stops is a gray area. And without knowing exactly what happened that night, he adds, it's impossible to know whether an emergency stop button would have saved Dufault's life. Yale's new safety standards require that all appropriate tools have the larger, easily accessible emergency stops.
As for working alone, Dufault had completed a 13-week training course, required before using the shop, and was nearly finished with a more advanced course. Calling the training "exemplary," Yale's consultant stated: "Ms. Dufault was well versed in both lathe operation and safety. Notwithstanding this training, she appeared to be working by herself"—contrary to the rule Yale had in place.
It's harder now for students to break that rule. Instead of the self-policing buddy system, a new electronic access system physically bars undergraduates from the most hazardous shops unless a professional supervisor lets them in.