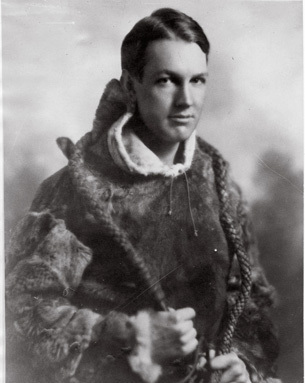 World Wide Photos
Varick Frissell, Class of 1926, went to Labrador for volunteer work but stayed on as an explorer and filmmaker. His last filmmaking effort, a feature for Paramount about a sealing ship, ended in tragedy. View full image
For nine days in March 1931, the New York Times followed a story it had broken on the front page with the headline "Explorer Feared Lost in Explosion." The subject was Varick Frissell '26, lost at sea off the coast of Newfoundland. Frissell was an explorer and filmmaker whose documentaries of life in the north had attracted the attention of Paramount. He had been trying for one last, exciting scene in his first feature film when disaster struck. His were the most notable, and surely the most tragic, of the adventures of many young Yale men lured "down north" in the first half of the twentieth century to volunteer for the Grenfell Association.
In the 1890s, Wilfred T. Grenfell, an English physician, founded medical and educational missions in communities along the coasts of Newfoundland and Labrador (then still part of the United Kingdom). He sought to help the inhabitants raise their standard of living by turning crafts into cottage industries—such as sales of Grenfell hooked rugs, still collectibles in Canada and the United States—and to provide schooling and health care. The many medical facilities he and his volunteers established became the de facto, and later the official, health care system of the northern coasts and remained so into the 1980s.
Grenfell toured Canada, England, and the United States to raise funds, giving talks about the dire living conditions of the white and native families. Grenfell Associations were organized in cities and colleges to help fund the missions and send volunteers. (An early donor was Donald A. Smith, Baron Strathcona and Mount Royal, whose bequest to Yale would underwrite Strathcona Hall in SSS.) Yale responded enthusiastically to Grenfell's appeals. In 1911 Yale students raised money to build and equip a boat adapted to work along the Labrador coast and sailed it to Labrador in the summer. The ship Yale, stationed at Indian Harbor, the northernmost post, brought the doctor on his rounds to remote communities and carried patients to the hospital. On his visits to the campus, Grenfell told of dangerous missions undertaken by Yale medical and college student volunteers—including one trip to Baffin Island without the aid of either a pilot or a chart. When the boat needed an auxiliary engine in 1913, the campus raised $800 to cover the cost. Three Yale students volunteered to operate the ship; another three volunteered to run another ship; there were so many volunteers that some had to be turned down.
Yale interest in Grenfell's work centered on Northwest River, the most remote post, where white, native, and mixed families lived. It provided the greatest variety of work—from ditchdigging to radio operation and medicine. Grenfell honored the campus's generosity by naming the boarding school Yale.
One of Grenfell's lectures in 1921 so impressed Varick Frissell, who was about to start his first year at Yale, that he postponed college to volunteer and explore Newfoundland. After a year of dogsled trekking, he entered Yale. He was active on campus—playing water polo, rowing, singing in the Glee Club and the Whiffenpoofs—but he spent his summers in Labrador. In July 1925, Frissell and classmate James Hellier undertook an expedition to the Grand Falls region, where they discovered a rumored uncharted channel. Frissell named the river Grenfell and its great falls Yale. He also became fascinated by the harsh and exciting life of the deep sea fishermen and seal hunters and wanted to share their stories with the world.
After graduating in 1926, Frissell became a filmmaker—starting with a small camera he hid on board a sealing ship where he spent six weeks working as a seal hunter. Frissell's documentaries, The Lure of Labrador and The Swilin' Racket (a local phrase for seal hunting), were released before his 25th birthday. They were well received and ensured his election as a fellow of the American Geographic Society and the Royal Geographical Society and as a member of the Explorer's Club.
Then Paramount offered to finance a feature film by Frissell about sealing, with a dramatic story that would attract a larger audience. The Viking—the first sound film shot outside a soundstage—was largely completed by 1930. But Frissell decided to add more-harrowing footage, depicting the ship threatened by an iceberg turning over. Sealing ships generally carried explosives for breaking up ice, and the Viking's cache was accidently ignited, perhaps by a spark from a pipe. The explosion destroyed the ship. Most of the 127 survivors dragged themselves across eight miles of treacherous ice to land; others were rescued from ice floes. Twenty-eight were missing, including Frissell. His father hired the famous polar aviator Brent Balchen for an air search, but no trace of Frissell was found. When his movie was released in June 1931, theTimes praised its "marvelous scenes, authenticity, and realism."
Through the 1930s and into the '40s, Yale students continued to spend their summers volunteering for Grenfell. In 2001, Harry Toland '44 published a book on his experiences, A Sort of Peace Corps: Wilfred Grenfell's Labrador Volunteers. He described some of the notable volunteers, including Cyrus Vance '39, Henry Cabot Lodge, Nelson and Laurance Rockefeller, and Clarence Birdseye (who first observed the quick-freezing process in Labrador). Vance, who went on to serve as Secretary of State, United Nations mediator, and chair of the Rockefeller Foundation, told Toland that his Grenfell experience helped shape his career: it "opened my mind to how much there was to do in different parts of the world to help those in need."