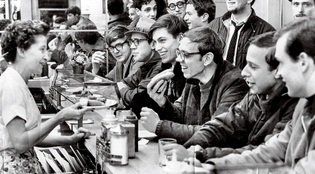 Yale Daily News
The Doodle's heyday: longtime waitress Nora Saddig serves a pig in a blanket in a 1967 photo. Seated second from right is future Yale College dean (now Duke University president) Richard Brodhead '68, '72PhD. View full image
On January 29, Rick Beckwith posted a sign on the front door of his Yankee Doodle Coffee Shop announcing, "the Doodle is closing its door for good." But Beckwith soon learned that after providing Yalies with burgers, pigs in blankets, and a listening ear for 57 years, the Doodle was not going to be allowed to disappear so quietly.
The day after the closing, Beckwith found himself overwhelmed with phone calls, media inquiries, and more than a thousand e-mails. "People want to do anything to keep the Doodle going," he says. Alumni and other fans mobilized to see what could be done to reverse the decision, raising thousands of dollars for the restaurant through donations and the sale of Doodle merchandise. (Beckwith says he sold out his entire inventory of mugs, mouse pads, and apparel and has had to restock.) A "Save the Doodle" group on Facebook.com called for graduates to volunteer legal and business expertise. Yale's retail properties arm came forward with an offer to find a new home for the Doodle. And in a purely symbolic but rousing show of support, the Lancraft Fife and Drum Corps appeared one Sunday afternoon in full Revolutionary regalia to perform "Yankee Doodle" in front of the diner.
Founded by Beckwith's grandfather, Lew Beckwith Sr., in 1950, the Doodle had changed little by the time it closed. It had 12 stools, a cash register that could ring up no more than two dollars at once, and a simple menu of burgers, eggs, real soda-fountain Cokes, and genuine diner coffee. Its pigs in blankets -- hot dogs stuffed with melted cheese, then wrapped with bacon, enveloped in a buttered bun, and topped with a special sauce -- were legendary among certain undergraduates. In more recent years, the diner was known for the Doodle Challenge, a perennially open competition to see who could eat the most burgers at one sitting. (See "Lunch of Champions," July/August 2006.)
Beckwith, who left a career in futures and commodities trading to run the Doodle after his father, Lew Beckwith Jr., became ill, says that declining business and increased costs made it impossible for him to continue operating. One aspect is the rent he pays for his Elm Street storefront: at $77 per square foot, he says, it is nearly three times the per-square-foot market rate in the Broadway area.
Many Doodle partisans focused their anger on the Doodle's landlords, John Parker and Michael Iannuzzi. But Iannuzzi, an owner of Tyco Copy Center, which is also in the building, says that rent increases in the 25 years he and Parker have owned the building have been minimal. He adds that comparing rent rates per square foot is misleading because the space is unusually small, and there is a minimum value for street frontage in the area. "I've tried to assist in any way that I could," says Iannuzzi. "I've been friends of the family for 37 years, and I gave the eulogy at Rick's father's funeral. The closing saddens no one more than me." Although Iannuzzi initially offered to leave the Doodle space vacant for two months while Beckwith and his supporters created a new business plan, he later rescinded the offer after a public war of words with Beckwith and said that Tyco will expand into the space.
But there is still hope that the Doodle will be revived. In early February, Yale vice president Bruce Alexander '65, who oversees the university's commercial properties, approached Beckwith about finding a Yale-owned property in the area to house a reincarnated Doodle -- perhaps a larger one with an expanded menu and hours. The discussions continued as this magazine went to press. Beckwith wrote on the diner's website in mid-February that "there is now hope that the Doodle will be able to reopen soon."