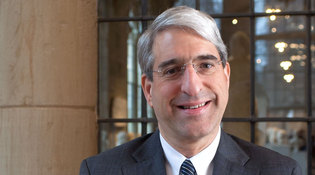 Mark Ostow
Yale's next president doesn't stand on ceremony. He likes to conduct the marching band during football games. He has submitted with good grace to myriad student comments and interviews about his now-defunct mustache (formerly a campus celebrity in its own right). He even went on camera for this magazine while he was learning an old Yale cheer modeled after the calls of Greek frogs. Any university administrator who will shout "Brek-ek-ek-ex!" on video, while crouching and pumping his fist, is a very, very good sport.
Peter Salovey '86PhD, all-around nice guy, is extremely popular on campus. The undergraduate Yale Daily News gave him its highest possible praise, calling him "a student of Yale," as well as "a true member of the university community." A Law School faculty member, who doesn't know Salovey herself, emphasizes that she has "heard only great things, from everyone from the Yale men's tennis coach to our former Law School dean to random students!" Even classics professor Victor Bers, a longtime critic of the Yale administration, is optimistic—despite the fact that Salovey took an active role in establishing Yale-NUS College, an enterprise Bers finds deeply troubling. "Going on what I've heard about Salovey since he was a graduate student and my own dealings with him as a dean and provost," says Bers, "seeing how he carries himself in the contentious faculty meetings we've been having over the past two years—how he really listens, how he abstains from the offensive PR baloney that's infected Yale and other university administrations—I think he is an excellent choice."
It helps that Salovey has been at Yale a long time, and that he is extremely active and extremely smart. He has written or edited 13 books; his work on emotional intelligence became widely known after a general-audience book on it came out in 1995 (see page 44). Since arriving as a graduate student 31 years ago, he has risen from star student to star faculty member to star in the administration. In our previous issue, we predicted he'd be short-listed for the presidency, because he has held three of the biggest jobs on campus: dean of Yale College, dean of the Graduate School, and provost. That last has traditionally been the second–most important administrator in the university—roughly speaking, COO to the president's CEO, and first among equals in the university officers' group.
It's said that a job offer from another university forced the emergency meeting of Yale's trustees in early November and the unanimous vote that landed Salovey the Yale appointment—barely two months after current president Richard Levin '74PhD announced his plan to step down next June. But in hindsight, the choice of Salovey seems inevitable. "Anybody as qualified as he," says recently retired deputy university provost Charles Long, "ought to be one of the great presidents."
One advantage of having been at Yale so long is that Salovey has an extensive and easily traceable track record. At any university, the path for a faculty member who wants to enter administration lies through committees and department posts. Salovey's service started even before that, when he was president of the Graduate and Professional Student Senate. (It was through the GPSS that he got to know his wife, Marta Moret '84MPH. She is now president of Urban Policy Strategies, a research group that helps service organizations improve the health of underserved populations.) He began his service as director of graduate studies in the psychology department in 1991 and was chair during 2000–03. His record is crammed with committee appointments, including many years on many far-from-glamorous committees. One gets a sense of a professional lifetime of meetings and required reading: Advisory Committee on Student Grievances, Psychology Subject Pool Committee (four terms), Psychology Graduate Admissions Committee, Library Phase II Renovation Committee, University Budget Committee—the list goes on and on, some five dozen in all. He's also a justice of the peace in New Haven.
A pattern emerges as one looks back over Salovey's various appointments: this mild-mannered, very friendly, highly articulate professor tends to leave big accomplishments in his wake. While he was president of the GPSS, the graduate and professional students' social center was finally renovated sufficiently to serve as a bona fide place to socialize. After he became a faculty member, he chaired the committee that planned the much-needed student center for the Graduate School—one of his proudest accomplishments, he says, not only because the center has provided services, such as career counseling and help with writing dissertations, but also because it has "built community."
One of Salovey's most significant contributions took place when he was dean of Yale College: he and then–Graduate School dean Jon Butler cochaired the committee that revised Yale's tenure system in 2007—giving Yale's junior faculty a better shot at tenure, along with better mentoring and clearer expectations for their scholarship and teaching. This, too, ranks among Salovey's proudest achievements at Yale. The new system "changed the morale of non-tenured faculty at Yale," he says. Before, many faculty members had their eye out for other job offers as soon as they arrived; now, "people internalize Yale's values and develop a sense of being a part of this place and of wanting to contribute to this place."
What will Salovey accomplish as president? In his acceptance speech, he laid out four governing precepts for the university: that it become more unified, more innovative, more accessible, and more excellent. (He elaborates on the facing page.) He won't state specific goals until he has completed extensive consultations with faculty, alumni, and students. But certainly, among his first big tasks will be to deal with some difficult questions.
The opening of Yale-NUS College next fall is by now a certainty, and the college's new global liberal arts curriculum, when it is finally unveiled, should make a splash in educational circles. But segments of the Yale faculty and alumni still object to the very existence of a liberal arts partnership in a regime that enforces iron limitations on certain areas of speech. And should the worst come to pass—a clash between the Singaporean government and a Yale-NUS student or faculty member—it will be Salovey who has to deal with it.
Salovey also faces some continuing faculty discontent over "shared services"—the recent effort to save money by streamlining some support services in the academic departments. And indeed, the most difficult issue for the new president will probably be the still-cramped budget. Starting in 2008, the Yale faculty and staff have received a letter at least annually from Levin, or Levin and Salovey together, about the state of the latest budget shortfall. Every year, Yale has had a multimillion-dollar budget gap to close—$350 million in recent years. The January 2012 letter warned that some units would be asked to make "targeted reductions" and to keep in mind "the ongoing need to identify administrative efficiencies." Over time, such strains can tell in the fabric of an institution. Levin has declared he will spend much of his remaining time in office raising unrestricted funds, to make life easier for Yale and his successor. But how much he can raise remains to be seen. Salovey took office as provost on October 1, 2008—just as the economy was crashing—and the effects of the crash will follow him into his new job.
Still, for the moment, the hard decisions lie in the future, and Salovey is enjoying his honeymoon. He has the admiration of the students and alumni and the respect of the faculty and administration. And the positive reviews are all the better because he's earned them.