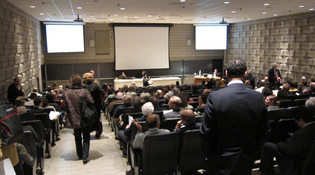 Mark Zurolo '01MFA
Members of the Yale College faculty took their seats in Davies Auditorium at the beginning of an April 5 faculty meeting. The faculty passed a resolution expressing concern about Yale-NUS College. View full image
A few faculty members have taken to calling it the "Yale Spring"—a play on the "Arab Spring" democratic uprisings of 2011. Since January, faculty dissatisfaction over a number of issues has coalesced into a semi-organized movement calling for a larger role for faculty in the governance of the university. The culmination of the campaign—at least by press time—came at an April 5 Yale College faculty meeting, when the faculty voted 100–69 in favor of a resolution expressing reservations about Yale-NUS College, the university's new joint venture with the National University of Singapore (NUS).
The resolution, which President Richard Levin '74PhD opposed, cited "the history of lack of respect for civil and political rights" in Singapore and called on Yale-NUS to "respect, protect, and further principles of non-discrimination for all, including sexual minorities and migrant workers, and to uphold civil liberty and political freedom on campus and in the broader society." It comes just over a year after Yale and NUS signed an agreement to create the college, which will be the first liberal arts college in Asia.
The college, which is to open in the fall of 2013 on the NUS campus, will be run by a joint governing board. Students will receive their degrees from NUS, not Yale, and the Singaporean government is footing the bill.
From the beginning, a number of faculty have been involved and on board with the project, having been tapped by the administration for committees to take the lead in designing the curriculum and other aspects of the college. After the proposal was formally announced in September 2010, the rest of the faculty were invited to town hall–style meetings where they could ask questions and voice concerns. The turnout was small; some faculty spoke out about issues of academic freedom and civil liberties, but at the time, there was no groundswell among faculty (or students or alumni) opposing the plan.
Political science professor Seyla Benhabib '77PhD, author of the resolution, says it was born of "an accumulation of frustration that our concerns were not being taken seriously." The faculty never had the opportunity to vote on the Yale-NUS plan; Levin says that was unnecessary because it is a separate entity from Yale College.
But why now, a year and a half later? "What really made the difference was that we had a confluence of dissatisfaction with the administration," says classics professor Victor Bers, who was one of the few public faculty critics of the plan from the beginning. In January, a group of faculty met at the home of English professor Jill Campbell '88PhD to discuss a number of concerns, including Yale-NUS, the administration of the Graduate School, and a university initiative called "shared services," which has reallocated the support staff of many academic departments.
For these faculty members, the common denominator was a sense that the faculty are being left out of decision-making. Art history professor David Joselit, who cohosted the meeting at Campbell's house, thinks the problem is systematic. "In many realms at Yale," he says, "there are inadequate mechanisms for soliciting and carefully considering faculty input. This has led to serious missteps and a pervasive sense of top-down policymaking."
Except for Singapore, the faculty's concerns deal largely with matters of academic and administrative organization. Because of budget cuts, departments have seen some of their support-staff positions eliminated or reduced to part-time. The university's shared-services plan seeks to centralize some business and financial functions, which many faculty oppose. "Shared services is a failed attempt to bring efficiency," says geology and geophysics professor Jeffrey Park. "You want to have personal relations with your staff. They know what you do and how you work."
Faculty in the humanities were also exercised by a report issued last August by Graduate School dean Thomas Pollard that encouraged departments to adopt "best practices" to help students complete their PhDs. (See Rick Levin: Q&A, November/December 2011.) Pollard is a former chair of the molecular biophysics and biochemistry department, and many saw the report as an attempt to impose practices of the sciences upon the humanities. In March, a group of faculty proposed the creation of an elected faculty committee to advise the Graduate School dean.
Music department chair Daniel Harrison '86PhD, who is not part of the group raising governance issues, suggests that the situation has much to do with the budget crisis and the resulting need for top administrators to set priorities. "The financial situation was drastic," says Harrison. "Somebody had to deal with that and get us through, without mass layoffs, as they had at Stanford; without cutting hot breakfasts," as at Harvard. "Somebody had to take charge of things and our administration did it in a masterly way." Now, though, he suggests, it's time to "restore equilibrium" and involve faculty more.
In order to do that, some faculty are now calling for Yale to create an elected faculty senate "to ensure that our voices are heard and considered as Yale plans its future," in Joselit's words. "We need to have a serious conversation about the idea of a faculty senate," agrees Benhabib. Many universities have faculty senates, but Yale has always had a more informal system of faculty governance through appointed committees and the monthly faculty meeting, which is open to all arts and sciences faculty but rarely draws more than a few dozen. (Even the meeting at which the Singapore resolution was considered, which had to be moved from Linsly-Chittenden to Davies Auditorium to accommodate the unusually large crowd, was attended by only about 200 of the roughly 700 members of the Faculty of Arts and Sciences.)
Stephen Silvia '90PhD, an international relations professor at American University, was recently chair of the faculty senate there. He says a senate can "facilitate shared governance" and give the faculty a more effective voice. "The faculty have to take responsibility and act, and the administration has to respect what they do," says Silvia. "It does wonders to create buy-in from both sides."
But some faculty are skeptical: Harrison argues that Yale's informal governance is sufficient. "We can address these issues in the good old-fashioned Yale way. There's no need for a revolution. We don't need to picket Woodbridge Hall."
Classics professor Kirk Freudenburg, who came to Yale after stints at Kent State, Ohio State, and Illinois, says Yale's lack of a strong faculty governance structure is balanced by the accessibility of administrators. "I've been at places where you never have access to the president or the provost," he says.
Levin acknowledges that the budget crisis has required "tough decisions," which means that "a lot of decisions have been top-down and not as consultative as they would have been in normal times." To respond to the concerns, Levin and provost Peter Salovey '86PhD have held meetings with many individual academic departments, and they sent out a memo in March addressing several of the faculty's issues. On shared services and staff issues, they promised to "work collaboratively with departments to ensure that additional staffing changes serve each department's needs." They reassured professors that Pollard does not seek to impose a "single template" on departments for dealing with graduate students, and that Pollard would reconvene a preexisting informal advisory committee of faculty that would be open to nominations. And they proposed to have special meetings of the Faculty of Arts and Sciences each semester as a "regular forum for faculty discussion of significant university issues."
But Levin has made no concessions on Yale-NUS. After the faculty resolution passed, he issued a statement commending "the engagement of my colleagues and their commitment to important principles" but adding that he opposed the resolution "because it did not capture the mutual respect that has characterized the Yale-NUS collaboration." He also told the Yale Daily News that the resolution's tone "carried a sense of moral superiority that I found unbecoming."
The resolution doesn't appear to have had any impact on plans for the new college. Astronomy professor Charles Bailyn '81, who will be the dean of the college in its first year, says he is currently involved in making offers for faculty positions in the new college. "The recent events on campus have sparked curiosity from our candidates, but the people I've talked to don't seem particularly deterred from joining Yale-NUS," he says.
But Benhabib says that if nothing else, she hopes the resolution will make people "become more aware of the dangers that lurk" as the project proceeds.