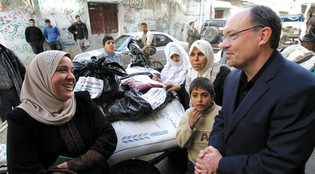 Cassandra Nelson/Mercy Corps
New Yale trustee Neal Keny-Guyer '82MPPM on a Mercy Corps trip to deliver aid to Gaza in January. View full image
The most formative experience at the Yale School of Management for Neal Keny-Guyer '82MPPM was a year off. Keny-Guyer's first semester on campus came at the height of the Cambodian refugee crisis in 1979, and he and other SOM students had the idea of applying the crisis management techniques they were learning to refugee relief. ("That's old hat now," he says, but it was novel then.) With "tremendous support" from the school, Keny-Guyer took a summer internship along the Thai-Cambodian border that grew into a full year's leave of absence. He and his colleagues coaxed leaders of refugee populations and of militias into cooperation and helped better organize the flow of thousands of oxcarts hauling relief supplies. "It was life-changing," he remembers.
Leaving school to become a better student typifies the thinking of the "energetic, entrepreneurial, constructively irreverent free spirit" that former SOM professor David Berg '71, '72MA, remembers teaching back then. Berg hopes that Keny-Guyer will bring these qualities to his six-year tenure as a trustee of the Yale Corporation, the university's governing board.
Alumni elected Keny-Guyer to the post in June, choosing him over Nelson Cunningham '80, a managing partner at the consulting firm McLarty Associates, and Sharon Ruwart '85, managing director of the Beijing office of APCO Worldwide, a public relations firm. Six of Yale's 19 trustees are chosen by alumni in annual elections.
Since graduating from SOM, Keny-Guyer has become a leader in the field of humanitarian aid, first at Save the Children and, since 1994, as CEO of Mercy Corps, where he oversees 3,700 employees with a presence in more than 40 countries.
Keny-Guyer says he has no specific agenda for the Corporation, preferring to enter "humbly" and to spend his first year listening and learning. Two things he does know: that he is interested in Yale's role as a "true global university," and that, as he says, "I'm gonna work really, really hard, and bring everything I have to this."