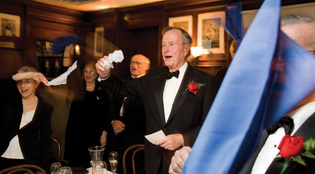 Harold Shapiro
Mory's Cup awardee George H. W. Bush '48 joins in singing "Bright College Years" at a dinner in his honor. View full image
When George H. W. Bush '48 made his way toward the back room of Mory's on December 14, flanked by Secret Service agents and mobbed by well-wishers, one guest shook Bush's hand and asked if it was gratifying to be awarded the Mory's Cup (an honor his son has not yet received).
"I don't even know what it is yet," Bush replied with a smile.
Despite its being a lower-profile award than, say, Bush's honorary knighthood from Queen Elizabeth II, the former president and his wife, Barbara, made the trip up from Houston to claim the prize after persistent lobbying from Christopher Getman '64, a member of Mory's Board of Governors.
"He turned us down at first, saying that he didn't think he was worthy," says Getman, who is handler to Handsome Dan, Yale's bulldog mascot. "But I wrote him back and told him that the bulldog is a very tenacious beast, and we don't give up easily."
Mory's president Cheever Tyler '59 says the Mory's Cup is given annually to "someone who has been of great service to Yale and Mory's and to their community. When you look at his career, putting aside any partisan politics, [Bush] has always been committed to public service in a very important way."
A crowd of around 200 -- including university and Mory's dignitaries, students, Bush family friends, and, yes, Handsome Dan -- were on hand for a cocktail reception, and it was surprising to see how the power of the presidency (even the former presidency) can daunt a group of normally confident people. Some paused to rehearse before trying a quip or anecdote on the president; others never worked up their nerve to join the throng around him.
After the Bushes had expertly worked the room for nearly an hour, a deputation from the Yale Precision Marching Band burst in to serenade them, very loudly, with four songs, including "Bulldog" (to which Barbara Bush sang along) and Neil Young's "Rockin' in the Free World" (to which she did not). When the band members all got down on one knee for the finale, Bush followed suit -- with visible difficulty; he was to go in for back surgery three days later -- and took over on one of the drums for a photo-op.
Then he and a small group of VIPs disappeared upstairs for dinner, where Bush was feted with speeches and songs -- but not before a band member broke away from his group and approached Bush with his instrument and a Sharpie, shouting theatrically, "Mr. President, will you please sign this mellophone?"