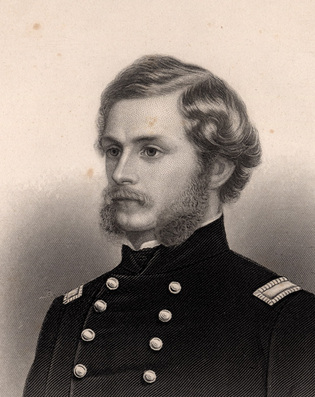 Manuscripts & Archives
Theodore Winthrop, Class of 1848, joined the army to aid "the great work of attempting to get rid of slavery in this country." View full image
Theodore Winthrop, Class of 1848, was the first Union officer killed in battle in the Civil War. Ten years before his death on June 10, 1861, he had written these prophetic lines:
Let me not waste in skirmishes my power,—
In petty struggles,—rather in the hour
Of deadly conflict may I nobly die!
In my first battle perish gloriously!
Winthrop's brief life was spent in a search for purpose and adventure. Born in New Haven in 1828, he was barely 16 when he entered Yale. Much was expected of him. His uncle was the college president, Theodore Dwight Woolsey '20, and among his eminent ancestors were six other Yale presidents. Winthrop was an accomplished athlete and outstanding scholar, and he wrote continually. But nearly all of his poetry, travel writings, and novels—even his reports as a Civil War correspondent for the Atlantic Monthly—were published after he died.
After graduating Winthrop worked for the Pacific Mail Steamship Company, often guarding gold shipments in New York or Panama. He quit the company in 1852 and traveled to Vancouver, but contracted smallpox. He recovered, and in 1853 trekked eastward across the continent on horseback. (His account of his experiences with the Indians of Oregon, The Canoe and the Saddle, became his most popular work.) In 1854 he volunteered on a harrowing U.S. Navy expedition to survey a canal route across the Isthmus of Panama. Eventually, he settled down in New York and devoted himself mainly to writing.
On April 12, 1861, South Carolina forces attacked Fort Sumter, and Lincoln called for volunteers to enlist in the army. Winthrop and his brother William, Class of '51, joined the artillery corps of the New York Seventh Regiment. "I go down to the front," Theodore wrote his uncle at Yale on April 17, "for the purpose of lending my aid to the great work of attempting to get rid of slavery in this country." He was sent to Fortress Monroe, Virginia, to serve as General Benjamin F. Butler's secretary and aide.
At Fortress Monroe, Winthrop helped plan the Battle of Big Bethel, generally considered the first land battle of the Civil War. General Butler gave him permission to fight in this June 10 attack on the Confederate defensive line. The offensive went badly for the Union from the start. During their retreat, Winthrop led a desperate charge to regroup. As he stood on a fallen tree, waving a sword and shouting "Come on!" he was killed by a direct shot to the chest.
The victorious Confederates returned Winthrop's body to his brother in a battlefield ceremony a week later. The New York Tribune declared, "The gallantry of Maj. Winthrop is the subject of universal admiration both with the federal and the rebel forces." William brought the casket to New Haven, where a military procession accompanied by Yale students conveyed it to the Grove Street Cemetery.
It was James Russell Lowell, editor of the Atlantic Monthly, who launched Winthrop's posthumous literary career. He had asked Winthrop to write about his army experiences; the first article, "Our March to Washington," appeared the month Winthrop died. It described the Seventh Regiment's exit from New York City in a parade down Broadway. "Our great city was with us as one man, utterly united in the great cause we were marching to sustain," Winthrop wrote. "It was worth a life, that march … through that tempest of cheers two miles long."