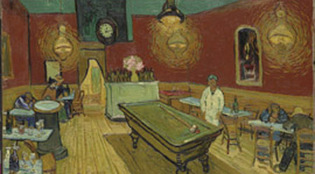 Yale University Art Gallery
Van Gogh's The Night Café (1888) is one of Yale's most prized paintings. View full image
The gas ceiling lamps are classically blurry Van Gogh orbs. The patrons, slumped over their tables, are equally hazy-headed from drink and the late hour. But there is nothing fuzzy, Yale says, about the ownership of The Night Cafe, one of the marquee attractions of the Yale University Art Gallery since 1961. To prove it, the university has filed a federal lawsuit seeking to pre-empt a claim by a French citizen who says Russian revolutionaries stole the painting from his great-grandfather.
Van Gogh made his oil painting of derelicts and prostitutes in 1888, at an all-night bar in the city of Arles, France. By the early twentieth century, it had found its way into the collection of Russian industrialist Ivan Morozov. In 1918, the new Bolshevik government nationalized Morozov's property, including The Night Cafe.
The Soviets sold the painting in the early 1930s to a Berlin gallery, which sold it to another gallery in New York. American art collector Stephen Carlton Clark, Class of 1903, bought it from the New York gallery in 1933 or 1934. Clark, who died in 1960, bequeathed it to Yale.
Now comes Pierre Konowaloff of France, claiming he has title to the painting. Last year, Konowaloff's wife wrote to Yale, saying that her husband is Morozov's great-grandson and the rightful owner of The Night Cafe. Although Konowaloff has yet to file suit, Yale took the first step in court because "the university does not wish to have its title to [the painting] clouded," according to Yale spokesman Tom Conroy.
The Bolsheviks had no right to take Morozov's art collection, argues Konowaloff's attorney, Allan Gerson '76JSD, and therefore the whole chain of possession is illegitimate. Gerson, a former official in the Reagan-era State and Justice departments, gained fame by suing the Libyan government for its role in blowing up an airliner over Lockerbie, Scotland, in 1988. His Night Cafe argument, he told the Yale Alumni Magazine, is "essentially the same argument I had advanced successfully in Pan Am Flight 103, which is that international law has evolved to the point that governments can be held accountable for their actions." While Yale is not a government, he says, "Yale is the conduit, or the fence, for Russia. Russia stole it; Yale has profited from it."
Nonsense, Yale contends in its suit, filed March 23 in federal court in Connecticut. Russia sold many such nationalized works of art to major galleries around the world, the suit points out. "It was accepted at the time, as it is now, that the sales by the Soviet government were valid, as were later acquisitions of the paintings." Konowaloff's father sued Russian and French museums in French court in 1993, trying to recover some Matisse paintings, the Yale suit says; he lost.
The university's suit seeks a permanent injunction barring Konowaloff from pursuing his claim. Gerson says he'll file a counterclaim by May 2.